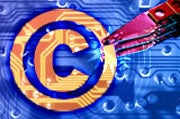 A group of prominent Internet service providers, including Comcast, AT&T, Verizon, and Time Warner Cable, announced Thursday that they will seek a more active role to protect copyright owners–a.k.a. the entertainment industry–from online piracy.
ISPs will now send "Copyright Alerts" to Internet subscribers when their connection is allegedly being used for content theft. If a single subscriber receives multiple alerts without responding, ISPs may limit the user's connection speed or block them from accessing the web altogether.
These notifications aren't new, but the ISP responses are. The National Cable & Telecommunications Association, which represents ISPs, says in a release that online content theft costs hundreds of thousands of jobs and billions of dollars of lost earnings in the United States every year.
Piracy Prevention
But the policy change isn't to recoup costs of piracy, it's meant to prevent it.
According to the release, ISPs won't release subscriber names to copyright holders–meaning it isn't likely for them to wind up in a messy court case. The association also says subscribers will be able to challenge an alert if they feel they were wrongly accused. They didn't specify how those challenges will work or who will oversee them.
Corynne McSherry, director of intellectual property issues for the Electronic Frontier Foundation (a digital rights advocacy group) told CNET that oversight could be a problem. She thinks that people hired to oversee challenges for the ISPs will surely have a conflict of interest. She's also worried the new arrangement will open the doors for more strict forms of enforcement.
The whole thing puts the National Cable & Telecommunications Association on shaky ground. It is in the ISPs' interest to make sure that consumers aren't violating terms of service but, at the same time, revoking someone's Internet connection also means they are going to lose a customer. For now, it sounds like they hope to ride the middle ground, pleasing the entertainment industry and their customers.
The new policy isn't in place just to jumpstart the entertainment economy; the association said that it will also help educate consumers. The association singles out parents and caregivers that many times don't know their Internet connection is being used for illegal activities. The group also hopes to educate individuals that aren't aware downloading movies, music and other copyrighted material is illegal.
"Data suggest that, once informed about the alleged content theft and its possible consequences, most Internet subscribers will quickly take steps to ensure that the theft doesn't happen again," it says.
Internet User Rights?
That may be true for Grandma or a neighbor with an unsecured Wi-Fi network that are being abused by tech-savvy content pirates, but the new deal won't do much for those that know what they are doing is illegal–besides put them at risk of losing a service they pay for.
Digital rights groups acknowledge the policy change's potential for public education about online piracy, but assert that the move has potential to undermine internet user rights.
Washington D.C.-based digital rights groups The Center for Democracy & Technology and Public Knowledge responded Thursday to the ISP announcement in a joint statement. The groups are particularly concerned that ISPs list Internet account suspension as one of the options for serial abusers.
"We believe it would be wrong for any ISP to cut off subscribers, even temporarily, based on allegations that have not been tested in court," the groups say.
It's a big win for the RIAA and MPAA, both of which have been attempting to forge an alliance with ISPs to knock out illegal file-sharing.
"This ground-breaking agreement ushers in a new day and a fresh approach to addressing the digital theft of copyrighted works," Cary Sherman, President of the Recording Industry Association of America said in a release. "We hope that it signals a new era in which all of us in the technology and entertainment value chain work collaboratively to make the Internet a more safe and legal experience for users. It is a significant step forward not only for the creative community, which invests in and brings great entertainment to the public, but for consumers and the legitimate online marketplace as well."