The new-and-used games vendor GameStop announced Friday that it will begin streaming games to tablets and other devices in the vein of the "cloud gaming" services offered by OnLive and GaiKai (a site that's still in beta).
The gaming giant is rethinking a strategy that fatally wounded Tower Records and Blockbuster, and is considering letting users who sign up with the company's rewards program stream games to their tablets or other devices with large s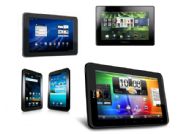 creens. The announcement came after GameStop purchased Spawn Labs, which will set up the logistics of cloud gaming service for mobile users.
Even more interestingly, GameStop says it may move toward selling a few tablets in its brick and mortar stores if all goes well, and even hinted at developing its own tablet in the future. Seems like everyone's hopping on the tablet bandwagon. How would a tablet developed by GameStop compete in a land of more popular all-purpose tablets? It seems that a precedent for that could be Sony's Xperia Play — a smartphone made for gaming first, and made to do all the other tasks of a smartphone second. Certainly something to watch in the coming months.
Via electronista and PhoneDog.