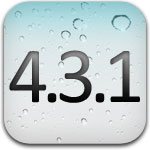 iDevice owners and hackers can rejoice! The iPhone Dev-Team have released an untethered update of both PwnageTool and redsn0w for Apple's iOS 4.3.1 firmware update. The new version is based on hacker Stefan Esser's untethered jailbreak of a fourth-generation iPod Touch, using a previous exploit. Sadly, there are certain limitations on what device will work with the new PwnageTool and redsn0w updates.
The good news if is you own an iPhone 3GS, GSM version of the iPhone 4, third- or fourth-generation iPod Touch, or first-gen iPad. The Apple TV 2 can also be jailbroken, but only with the PwnageTool at the moment. Sadly, it's a no-go for iPad 2 users–you would need to use a bootroom or an iBoot-level expolit hack. Also, the iPad 2 is "not susceptible to either the limera1n or SHAtter bootrom exploits".
Also, those using ultrasn0w to hack their devices are strongly advised against updating, as there are still a few fixes to be made to allow support. Plus, when there are updates, ultrasn0w users should use a custom IPSW rather than stock, else the jailbreak will get lost.
If you don't own an iPad 2 or use ultrasn0w, futher details on how to unlock your iDevices are available from the Dev-Team Blog, including how-tos for jailbreak newbies.
The usual disclaimer: Hack at your own risk: Only tinker with your phone if you are confident you know what you are doing. You may void your warranty and/or brick your phone if something goes wrong. Don't say we didn't warn you.
[via @i0n1c]
Like this? You might also enjoy…
Get your GeekTech on: Twitter – Facebook – RSS | Tip us off