Mozilla has some big plans for future versions of Firefox, including Internet Explorer 9-style dynamic jump lists, new sharing capabilities, identity management, and the end of the home button.
Firefox 4 is less than two weeks old, and already the folks at Mozilla are hard at work to keep their promise of releasing Firefox 5, 6, and 7 by the end of 2011. The next iteration of Firefox is expected to be ready for download by the summer.
At the moment, Firefox 5 is still in early development so Mozilla may delay certain features currently being discussed until future releases. In fact, some of the features discussed below, such as the home tab, were originally slated for Firefox 4 so you can never tell when a feature might actually make it into Firefox. It's also possible that Mozilla could cancel certain features entirely. With than in mind, here's a look at what Mozilla has planned for Firefox 5 and beyond in 2011.
Prism Takes on IE9
Mozilla looks set to integrate its Prism add-on with Firefox 5 and include new enhancements such as IE9-style dynamic jumplists.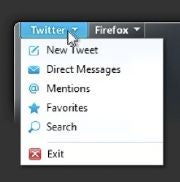 Prism, currently available for Firefox 3 through 3.6, lets you place a shortcut to sites or Web apps right in your taskbar (Windows) or dock (OSX). When you launch the site shortcut it opens as a separate process from your main Firefox browser, and can include a variety of app-like functions such as notifications when you receive a new mail message.
Based on current UI design proposals, Mozilla may add menus to Prism Web apps so you can access a site menu right in your browser. This feature would depend on the Website implementing the option. Desktop-accessible site menus is exactly what Microsoft included for IE9 with its dynamic jumplists feature used by sites such as Facebook, The New York Times, Windows Live, and PCWorld.
Unlike Microsoft, however, Mozilla may offer the option to access Website menus directly from the browser tab as a drop-down instead of right clicking on the taskbar or dock. This decision would be consistent with Firefox's design of the new orange Firefox button that houses most of the browser's menus in Firefox 4 as a drop-down menu.
Check out Mozilla's early mock-ups for the new Prism feature here.
No Place for Home
Firefox 5 may dump the home button and replace it with a permanent home tab instead, according to a list of new Firefox features on Mozilla's user experience page.
Mozilla has been talking about a permanent home tab since the early days of Firefox 4, so it's not clear what is the status of this feature.
In late 2009, Mozilla discussed including dynamic content in the home tab such as social networking updates and RSS feeds instead of providing a link to a specific website such as iGoogle or Yahoo. If you want to read up on current thoughts about the home tab, check out this discussion on bugzilla.
Sharing
Mozilla wants to enhance the sharing features for later versions of Firefox. The new sharing feature would let you integrate your logins for social networking services such as Facebook and Twitter into Firefox. Then you would be able to click an icon in the URL address bar that would automatically let you share a link to specific Web pages with your Twitter followers or Facebook friends.
You can find a complete set of mock-ups for this feature here.
Enhanced Account Manager
Mozilla plans to beefing up Firefox's account management features by allowing you to save login credentials for multiple accounts at once. You can find mock-ups of Mozilla's Firefox account management plans here.
In-Browser PDF Viewer
It's not the most exciting feature, but Mozilla is finally working on an integrated PDF viewer for Firefox. This means you won't have to download PDFs to your hard drive to see them or rely on Google's "Quick View" option to see the PDF in Google Docs.
Don't worry, download fans — you will still have the option to save PDFs to your hard drive if you want to view them offline.
Mozilla has a lot of work ahead of it to get three more versions of Firefox finished by the end of 2011, but it looks like some great new features are coming to the open source browser. If you haven't checked it out yet, take a look at Mozilla's Firefox roadmap to get a sense of the general direction and vision Mozilla hopes to take with Firefox in 2011.
Connect with Ian Paul (@ianpaul) and Today@PCWorld on Twitter for the latest tech news and analysis.