We've officially reached the point where Google only has to think of an idea and it springs into reality within a few days. That's what happened when the Institute for Creative Technologies went ahead and created the company's April Fool's prank, Gmail motion.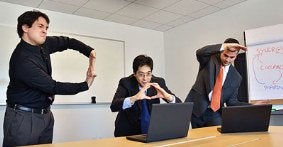 A faux launch page and video explains how the new service "…uses your computer's built-in webcam and Google's patented spatial tracking technology to detect your movements and translate them into meaningful characters and commands."
A clear send-up of the popularity of the motion-based Microsoft Kinect, Google also created a thoroughly ridiculous printable PDF of sample body movements for Gmail actions and common phrases, which ICT's Evan Suma and friends took very seriously.
Suma's team used a Kinect and apparently copious amounts of spare time around the lab to create the service as described by Google on its prank site. In a video demonstration, Suma uses a few of the actual movements suggested, including some of the more humiliating gestures — like licking an imaginary stamp and slapping it on an invisible envelope to send e-mail. And it appears to work. A split screen open to Gmail shows an e-mail being sent on command as Suma slaps the unseen stamp against his knee.
No word on whether Suma and ICT will follow up on Google's April Fool's pledge to bring "motion" technology to Google Docs.