Think Google already knows too much about you? Using a new check-in feature available in Google Maps 5.3 for Android for Google's location service Latitude you can create a location history dashboard. By activating the feature — by enabling Location History in Google Latitude — keep track of how many hours you spend at work and at home.
According to Google's Mobile Blog:
If you've enabled Location History for Google Latitude, you've been able to visualize interesting trends in your location history with a personal dashboard at google.com/latitude on your computer. Now, you can also see your dashboard on your phone by tapping View location history from your Latitude profile. You'll be able to see right on your phone how far you've travelled as well as an estimate of how much time you've spent at home, at work, or out.
The Google service is completely opt-in, meaning you choose if you want to activate the feature, what information you are comfortable sharing, and the people you want to share it with.
Phandroid reports that "home" can be anywhere. Set it to your actual residence or "the corner bar you might as well live in" and the app will dutifully keep track of how often you check in there.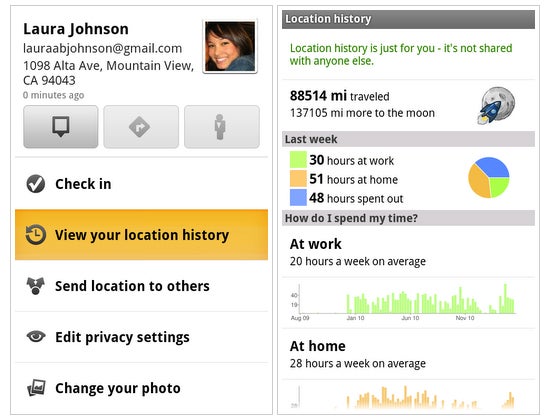 You can see this data by the numbers or in month-to-month bar chart form (see image above). Google Latitude for Android, launched Feb. 1, gives Droid users the ability to use Hotpot to update and share location and "add context" like a sharable review of the restaurant you're visiting. Maps 5.3 for Android improves the rating end of the app by letting you add any attributes that are important to you, like "music" or "coffee quality."
New features in Google Maps 5.3 for Android upgrade the app's social media bells and whistles, like the ability to share your whereabouts via Twitter and use Latitude to find new places, claim status points and ask friends to check in as well.