More goodies have dropped from the blog that brought us photos of the Windows 8 welcome screen and the Windows Explorer ribbon. Namely, "Immersive browsing" and a Microsoft PDF reader called "Modern Reader."
Rafael Rivera and Paul Thurrott are posting about the secrets of Windows 8 on the Within Windows blog. These "secrets" are from pre-beta builds of Windows 8, which were leaked over the weekend. So far, we've seen the creepy welcome screen guy (with the fancy modern Windows Phone 7-esque text), as well as a toolbar-replacing ribbon (similar to the ribbons in Microsoft Office programs) in Windows Explorer.
Immersive Tablet UI
Rivera and Thurrott have now revealed an "Immersive" version of Internet Explorer ("Immersive" is the name given to Windows' new tablet/phone user interface) that gives us clues to how the actual user interface may work. While everyone is pretty sure that Windows 8's tablet-styled user interface will feature tiles (like Windows Phone 7's interface), Rivera and Thurrott point out that this feature has been "locked-down" and (so far) "impossible to unlock."
However, they unlocked the Immersive version of Internet Explorer, which operates at 640 by 480 pixels and cannot be resized. Rivera and Thurrott point out that this may be because the application is intended to run at full screen only:
"It's likely that this application is designed to run full screen only and that the limitations we're currently seeing are because we're running outside of its intended native Immersive environment."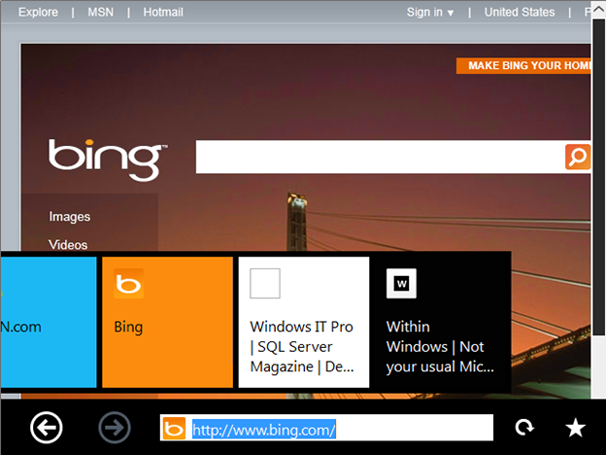 So far, what we can see of it looks pretty cool. Browser history comes in square "tabs" that pick up on the website's colors.
Native PDF Reader
Rivera and Thurrott also revealed a native Microsoft PDF reader called "Modern Reader." The authors point out that this is the first app they've seen that "utilizes the new AppX application package type," which is noteworthy because it could be common to both Windows 8 and Windows Phone 8 (which is apparently codenamed "Apollo").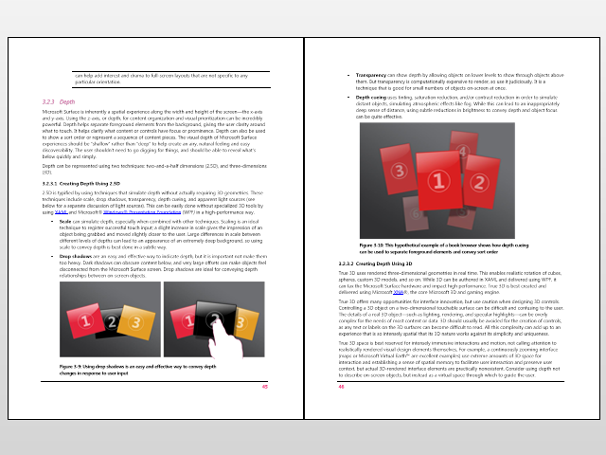 Modern Reader is simple and modern, as you might expect. It displays PDFs in full fidelity (of course), features zoom capabilities, supports side-by-side page viewing, and has a sidebar (a "page scrubber") that you can use to jump ahead in the document. If you do jump ahead, a back button appears in the upper left corner so you can go straight back to where you came from.
Follow Sarah on Twitter (@geeklil) or on Facebook