Perhaps the only complaint you'll hear from an iPhone 4 owner on AT&T is about the network itself. Dropped calls, in particular, are the most griped about problem with Apple's smartphone on AT&T. And they have a right to complain: According to a survey called Aftermath of Verizon iPhone Launch by ChangeWave Research, AT&T iPhone 4 owners experience two-and-a-half times the number of dropped calls than Verizon iPhone 4 owners.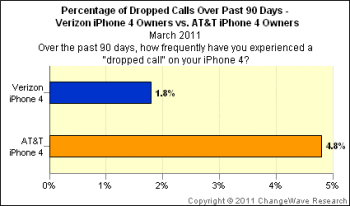 But interestingly, the percentage of customer satisfaction for each carrier is about the same. According to a survey of 4,068 consumers, 82 percent of Verizon iPhone 4 customers said they are "Very Satisfied" versus the 80 percent of AT&T customers who also said they are "Very Satisfied."
ChangeWave has conducted a series of surveys on dropped call frequency between the Big Four networks since 2008 and AT&T has continuously fallen in last place. Phone owners report that AT&T dropped 4.6 percent of their calls, while Verizon dropped just 1.4 percent in the most recent poll. T-Mobile customers reported 2.3 percent rate of dropped calls while Sprint customers reported a 2.7 percent drop rate.
In terms of dropped rates for the iPhone 4 specifically, Verizon customers reported only 1.8 percent of their calls were dropped while AT&T's customers experienced exceedingly more dropped calls at 4.8 percent. Note: The survey was done in late March when Verizon had only been selling its version of the iPhone 4 for a number of weeks.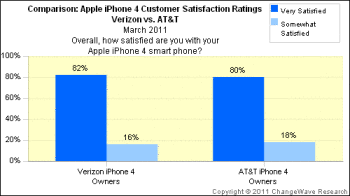 So why is overall customer satisfaction between the two networks virtually the same when there's such a big difference in the rate of dropped calls? And what about the claims of an antenna glitch in the iPhone 4 hardware? ChangeWave chalks the gap in numbers to the iPhone 4 on Verizon still being relatively new.
"Verizon is still in the early stages of its iPhone 4 offering to consumers. It remains to be seen how well the Verizon network performs as the number of Verizon iPhone 4 owners ramps up and inevitably puts more pressure on their system," the research firm wrote.