In news that should surprise no one, Dell's Windows 7 tablet may not be ready until September at the earliest.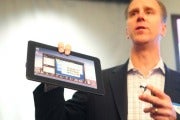 Officially, Dell hasn't revealed a release date for the 10-inch Windows slate, which it announced last February, but Forbes cites an unnamed company source who says the tablet won't arrive until the fall. A September launch could jeopardize "back to school" sales, but it may not matter because Dell is positioning the device as "business-ready."
Though it's not clear why the Dell tablet will take so long to arrive, a late launch isn't a big shock given the tarnished history of Windows 7 slates so far:
Lenovo scrapped its plans to build a Windows 7 tablet in October 2010. "The challenge with Windows 7 is that it's based on the same paradigm as 1985–it's really an interface that's optimized for a mouse and keyboard," Howard Locker, Lenovo's director of new technology, said. "It has to be optimized for touch."
MSI announced the Windows-based WindPad 100 in May 2010, but its release plans are still unclear. A report from October said the tablet would launch some time in 2011, following the launch of an Android tablet in March But then another report said the Android tablet won't arrive until May or June, with no word on the Windows-based WindPad 100 at all.
Microsoft Chief Executive Steve Ballmer, June 2010: "Over the course of the next several months, you will see a range of Windows 7-based slates that I think you'll find quite impressive." To date, Microsoft's online store only lists two: the ExoPC and the Asus Eee Slate. The latter is available in some countries but is only up for pre-order in the United States.
For those Windows 7 tablets that do make it to market, they'll be obsolete in a year or so, when Microsoft is expected to launch Windows 8. Unlike its predecessor, Windows 8 is being built with touch screens in mind, and tablets are rumored to have a tile-based user interface resembling that of Windows Phone 7.
According to a leaked Dell roadmap, the company is working on one of these Windows 8 tablets for early 2012. It makes you wonder why Dell and other companies even bother with Windows 7.
Follow Jared on Facebook and Twitter for even more tech news and commentary.