Online communities such as Facebook and Twitter are becoming major support hubs for tech companies. Such top tech brands as AT&T, Dell, Hewlett-Packard, and Microsoft are assisting their customers via social media in addition to–and in concert with–traditional support channels such as online chat and phone support.
For consumers with a faulty Internet connection or a balky DVD drive, a quick question posted on a vendor's Facebook page, or perhaps a brief Twitter rant, may draw an immediate (and potentially helpful) response from a company determined to protect its online reputation.
The fact that online communities are extremely popular with Americans is not lost on tech companies. (About 83 percent of U.S. adults actively participate in social media, according to an October 2010 report by Forrester Research.) So the companies are going to where their customers are, setting up marketing and support pages on Facebook, monitoring Twitter feeds to pacify irate customers, and posting self-help videos on YouTube.
My own experience with social support has been positive. After waiting for weeks for AT&T to fix my DSL service, I decided to tweet my problem. I posted a few barbed comments on Twitter, including one that read: "I really, really, really have grown to hate AT&T DSL." Hours after that vitriolic tweet, an AT&T representative contacted me via Twitter, and arranged for a call from AT&T's support staff, which phoned the same day to schedule an on-site repair.
That's not to say, however, that every disgruntled consumer who gripes about a faulty product on Facebook or Twitter will suddenly receive superb service from a previously neglectful vendor. "I believe support through social media is still in the early, experimental stages," writes IDC software support analyst Elaina Stergiades via e-mail to PCWorld.
And while many tech firms today do assist social media users with simple requests–they might tweet a link to online clip art for a Microsoft Office presentation, for instance, or pass along a toll-free tech support number to an irate consumer with a busted laptop–they're likely to refer more-complex issues to a support line or service center.
Social PC Repair
PC manufacturing giants Dell and Hewlett-Packard have a strong presence on social media sites. Dell's support page on Facebook contains setup guides, technical manuals, drivers, and downloads, as well as a help request form. Its @DellCares support team on Twitter has attracted nearly 7400 followers and offers proactive help to customers.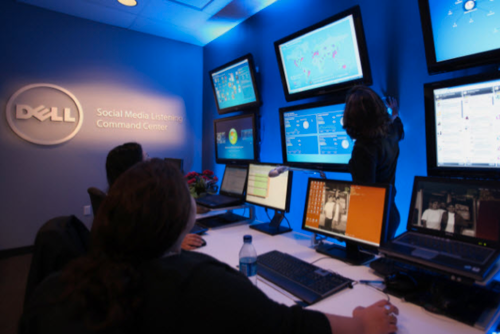 Dell may have the showiest social-support center in all of tech. Its Social Media Listening Command Center at Dell headquarters in Round Rock, Texas features dramatic lighting and a wall of flat-screen monitors–a futuristic effect not unlike a hip nightclub or a Hollywood movie set. Inside the Command Center, support staff track more than 25,000 Dell-related posts from major social sites, including Facebook, Twitter, YouTube, and blogs (via Google Alerts).
The Command Center's primary task is to monitor and respond to Dell customers online, a 24/7 mission that comprises customer support and brand protection. By soothing angry users and solving their tech issues promptly, Dell hopes to prevent negative news and misinformation from going viral across the Web. The results thus far are positive: Some two-thirds of Dell customers contacted by the company's social-media outreach program say that the experience was positive, according to the company.
"Customers were thrilled and elated that Dell was reaching out to them," says Manish Mehta, Dell's vice president for social media and community. "It changed their perception of the company."
Mehta says his company sees social media conversations as an "early warning system for issues that arise around our products." Because social media sites are commonly used by tech-savvy "early adopters," problems with Dell products are likely to show up there first, Mehta believes.
HP is also active on social media sites, but it tends to focus on redirecting visitors to HP-branded product and support sites, which receive 4 million customers a month. The company's Facebook page, though not as helpful as Dell's, has links to HP support forums. Facebook users can post questions, which HP automatically routes to its own sites. On Twitter, the company's "social media ambassadors," such as @HPsupport, respond to customer queries. HP has more than 100 support ambassadors who are company employees, and others are volunteers, the company says.
"We have some ambassadors who are heavily monitoring Twitter, because often times Twitter is the place where customers are doing a shout-out," says Lois Townsend, HP's manager of social Web support. "They're stomping their feet saying, 'Hey, I'm upset about something.'"
Townsend believes that social support is here to stay, and that it has become an important entry point into her company's traditional support programs. "Obviously, Twitter's 140-character limit doesn't allow for a lot of rich dialogue," she says. "So we try to use [Twitter] as a way to find customers and reach out to them. And then we escort them to the most appropriate place to get the best answer to their questions."
Risks of Being Social
This social approach doesn't always translate into good technical support, however, as HP customer Shona Anderson discovered earlier this year. An educator and author who lives two hours north of Toronto in Ontario, Anderson experienced a series of problems with her HP netbook, including a battery that wouldn't fit in the case and an erratic screen that sometimes became an unreadable "blur of pixels." HP fixed the battery problem; but when Anderson shipped her netbook to HP to fix the display, things went sour.
"They told me there was nothing wrong with it," but the screen problems persisted, she says. "At that point, I was a little frustrated." On March 21, Anderson went on Twitter and wrote: "HP sucks…my netbook is not working again." She then asked a Twitter-based HP support ambassador for assistance. "Their response two hours later was, 'Have you tried our 1-800 customer help number?' Well, that wasn't really what I was hoping for," she says.
The end result: A lost customer for HP. "I will never buy from them again. At this point, I'm so frustrated, I would love to tell them to take my netbook back," adds Anderson.
Anderson's dissatisfaction with HP suggests that a slick social media strategy won't compensate for defects in a company's support infrastructure. (In recent years, HP has repeatedly fared poorly in PCWorld's annual Reliability and Service survey.)
"User expectations for immediate response can be very high, and if a support provider doesn't have adequate staffing to ensure this (a very expensive proposition), it could risk angering frustrated customers," IDC's Stergiades writes.
Other tech companies take a more cautious approach to managing their social-site presence. Apple, which routinely earns high marks for support in our yearly Reliability and Service survey, keeps a relatively low profile on Facebook and Twitter, choosing instead to offer support primarily through such conventional channels as phone, e-mail, chat, online forums, and retail stores, Stergiades says. (Apple didn't respond to numerous interview requests for this article.)
Tweet for Help
Among tech vendors, Microsoft has one of the strongest presences on Twitter. The company's data-mining tools analyze 140 million daily tweets from Twitter users, pulling in messages that mention Microsoft and its products and services, according to a spokesperson for the company. It then applies additional rules and filters to remove nonrelevant messages, such as ads and malware, while retaining tweets from customers who need assistance.

Microsoft's tools separates the tweets that make the cut by language and pass on to Microsoft's team of social media agents, who review them and perform additional filtering to weed out casual conversations that don't require the company's involvement. Finally, a Microsoft support rep contacts customers publicly on Twitter to ask if they need help. If they do, the agent offers online support and "partners with the customer until the issue is resolved," the company spokesperson writes.
For some social media devotees, Microsoft's assertive interactions have a creepy, Big Brotherish feel. After all, the people contacted didn't seek out Microsoft; it sought out them. But the company insists that the opposite reaction is overwhelmingly more common. From January to mid-March 2011, for instance, Microsoft's Twitter team "engaged" with over 5000 customers, 99.99 percent of whom expressed "extreme positive reactions to our offer of help," claims the spokesperson.
We're Listening
As anyone who has used Facebook and Twitter knows, each service has unique attributes. When it comes to tech support, Facebook is better for building a community of customers, some of whom will offer troubleshooting tips and other advice to their fellow users. Twitter, on the other hand, "is much more of a listening piece," says Chris Baccus, executive director of digital and social media at AT&T. "We are out there watching the comments, watching what's happening about mentions with our brand."
AT&T currently assists about 4000 customers a month via social media platforms, which include Facebook, Twitter, and numerous blogs. "We've been seeing a gradual increase each month, and some months are a little busier than others, depending on what's going on in the marketplace," says Molly DeMaagd, AT&T's director of social media.
Companies recognize social media's power to make or break their reputation. "Twitter is an early-warning system," says Dan Anderson, T-Mobile's social media manager. "As a cell phone company, if there's a network issue, we'll hear about it right away."
Sprint reads its reviews, too. "Absolutely, we monitor comments on social sites. We don't catch them all–but we do our best. I would say we are most active in monitoring Twitter, Facebook, and the Sprint Community [forums]," says Sprint spokesperson Rich Pesce.
"In many ways, I think [social media] is a new form of the focus group," T-Mobile's Anderson adds. "Instead of having to bring people into a room and ask them questions, your customers are proactively telling you what they think. And you get that feedback right away."
T-Mobile, which AT&T recently agreed to buy for $39 billion, claims to reach 140 million people every month through the cumulative reach of its social media programs. "It's larger than our customer base," says Anderson. "It shows the viral nature of social. We love it because it's not only a way to communicate with our existing customer base, but there's a sales potential as well."
'Like' Me, Even If You Don't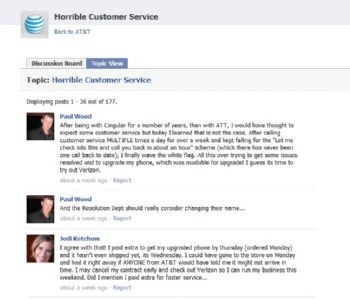 Close to 1.4 million Facebook members "like" AT&T's Product/Service page. But peruse the discussion forums there, and soon you'll discover that many visitors aren't exactly adoring fans of the telecommunications giant.
AT&T's Facebook board lists more than 1700 user-generated topics ranging from the inoffensive ("LTE") to flame-thrower material ("Horrible Customer Service"). The company responds to all customer queries and complaints, no matter how incendiary. "We'll answer questions or clarify questions for either posts that we make or posts that our customers and fans make on the page," says Baccus. "If there is a question out there, we're addressing it in a rapid, intelligent, and personal way."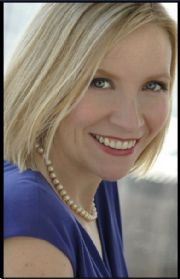 But execution is everything, and a poorly constructed "personal" reply may backfire. In March, Patty Manning Lennon of Danbury, Connecticut was fed up with the slow speed of her AT&T DSL service and with the failure of the company's technical support staff to correct the problem. She decided to bid AT&T a fiery adieu online. Here's a snippit from Lennon's snarky farewell post on AT&T's Facebook board:
"It will explain why I'm leaving you now," her post read. "So many have already left and more will follow. If you don't care about your customers, it will show. I'm taking my internet, phone and iPhone service with me. Farewell!"
Lennon, a life coach and entrepreneur who runs the Mom Gets a Life Website, posted a similar goodbye on Twitter. AT&T responded in both instances, albeit differently. Its Twitter reply came from an actual AT&T customer service rep, who asked to discuss the matter privately via Twitter's direct-message tool. The Facebook response, however, didn't come from a particular person and seemed less sincere to Lennon. It read: "Hey Patty! Thanks for posting on our wall. So sorry to hear that you are leaving us… anything we can do to assist you today? We are here to help."
AT&T's Twitter response persuaded Lennon to give the company a second chance to win her back. "You actually have to connect with people in a way that feels humanizing," she says. In other words, a company that botches its social media message isn't going to persuade its customers to remain loyal.
"There's a certain personal connection you get, even though it's online, when a company reaches out to you and personally addresses your issue," says T-Mobile's Anderson. "It leaves you with a better impression of the company."
And when it doesn't, the opposite is true.
Looking Forward
So what does the future hold for social support? It's here to stay, but it won't replace conventional support tools. For instance, Dell says that the goal of its Social Media Command Center isn't to replace traditional support methods, but rather "to be there for customers" who want to contact the company via social networks.
"I think [social media] is a companion," says AT&T's Baccus. "And the reason why is that some people want the personal communication of the human voice."
For many tech companies–including HP–Facebook and Twitter are simply new front doors to route customers to traditional support operations. Other businesses, like AT&T, proactively interact with their customers online, attempting to bypass a creaky support infrastructure–like the dreaded phone tree–to solve users' problems faster.
Within a few years, social support teams will likely merge with standard support operations, a combination that could improve customers support overall.
"Right now, our [social media] team is separate from the call centers," says AT&T's DeMaagd. "But one of the things we're going to look at is integrating it more with the call centers."
The question is whether tech companies will have enough staff to handle the growing number of social media users. As IDC's Stergiades points out, an army of social-media watchers may prove to be a very expensive undertaking for a tech company focused on the bottom line.