Hot on the heels of the launch of Amazon's Cloud Drive, new signs of Google's music-streaming service are showing up around the Web.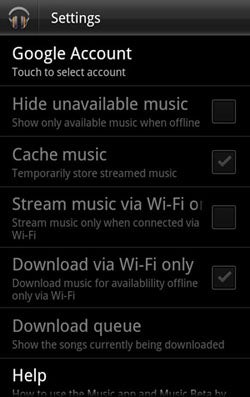 A website called TechFrom10.com — which has been offline since Tuesday morning — received a copy of an apparent development version of a new Android Market interface for phones. Within the updated Market, the site found a new music player app for Android. It's not complete, by any means, but the app runs relatively smoothly on Android 2.3, the latest smartphone version of Google's mobile OS.
Big deal, right? It sounds underwhelming, I know. But what's noteworthy about the discovery is the presence of cloud-based streaming features within the music player application.
When you dig into the settings of the new Android music app, you find a handful of options that seem to be tied to the long-discussed Google Music service. One allows you to select a Google account to connect to the application; another lets you temporarily cache streaming music files to help improve performance. All told, the app is actually quite similar to another Android music player leak we saw about a month ago, though the software seems to have evolved into a more stable and polished form since that last appearance.
Google Music and Android: The Bigger Picture
So let's put this all into context: We first (officially) heard about Google's plans for a cloud-based music streaming service last spring, when Google gave us a sneak peek at the aptly named Google Music during its 2010 I/O developers' conference. Since then, we've heard rumors upon rumors of a pending launch — including one that surfaced a few days ago — but no real signs of anything beyond the standard blogosphere-based hearsay.
The sudden appearance of this new Android music player, then, is certainly interesting. Remember, Amazon launched its own music-streaming service just last week. In doing so, it beat Google to the punch — potentially snagging hoards of Android streaming customers who may never look back. Now we have a tiny little reminder that, hey, Google has something on the way, too.
The situation gets even more interesting when you consider how the folks from TechFrom10 supposedly got their hands on this new Android music app. According to the site, the software randomly showed up on a writer's Galaxy S phone via an over-the-air update. Now, are they telling the truth — and if so, does that mean this was some sort of intentional leak? We'll likely never know for sure, but the possibility exists. (It could also, of course, have been a coincidentally timed mistake, or there could be more to the story than what we've been told.)
In terms of timing, there's one other important piece to this Google Music puzzle. The latest round of rumors suggests Google is now testing its music-streaming service internally, with a possible reveal set for the company's I/O developers' conference — yep, the same event where we first heard about Google Music — next month.
This year's Google I/O takes place May 10 and 11. Only time will tell whether all these clues are leading up to something, or whether they're just red herrings in what's starting to feel like a wild-goose chase.
JR Raphael is a PCWorld contributing editor and the author of the Android Power blog. You can find him on Facebook, on Twitter, or at his geek-humor getaway: eSarcasm.com.