It's only been a few weeks since Motorola's top-of-the-line Android tablet and smartphone went on sale, but already analysts are asserting that the Xoom and Atrix are duds. Motorola has not disclosed any sales numbers for its shiny new gadgets, but Pacific Crest analyst James Faucette told Forbes sales for the two Android devices "have been disappointing."
Sales for the Motorola Xoom tablet and Atrix smartphones–launched in February–are "well below forecast," Faucette asserted in a research note, with competition from Apple's products and from inexpensive Android smartphones hurting Motorola's sales.
Verizon Wireless, however, which sells the Xoom, said on March 7: "We are pleased with customer response to the Xoom." Verizon almost never reveals sales figures and did not this time either.
The Motorola Atrix 4G is a 4-inch Android smartphone on AT&T, shipping with an older version of the OS (2.2 instead of 2.3). Starting at $199 (with a two-year contract), the phone has a 5-megapixel camera, and you can buy separately an 11.6-inch laptop-like dock ($500), extending the phone's capabilities with two USB ports, a full-size keyboard, a touchpad, and stereo speakers.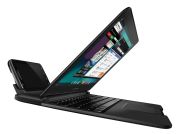 In PCWorld's review, the Atrix 4G scored 4.5 out of 5 stars, with extra marks for the dual-core 1GHz processor and the sharp display, but the Atrix-powered laptop accessory was deemed a good idea poorly executed. Other reviewers had mixed experiences with the Atrix 4G, noting minuses such as preinstalled bloatware and calling the laptop dock a gimmick.
The Atrix went on sale just a few weeks after the Verizon iPhone debuted, which may have contributed to the low sales that analysts are reporting. While the Verizon iPhone is said to have sold over a million units (topping February smartphone sales) Faucette said that AT&T customers favored the cheap $50 iPhone 3GS and HTC Inspire over the Atrix 4G.
Motorola's iPad competitor, the Xoom, did not fare any better in sales either, with the iPad 2 launched shortly after the Xoom's availability. The 10-inch Xoom is Motorola's first Android 3.0 tablet, which looks obese in comparison to the slender iPad 2.
In PCWorld's review, the Xoom scored 3.5 out of 5 stars, with one note on pricing: The tablet cost $800 contract-free on Verizon, or $600 with a two-year contract. In comparison, the iPad 2 starts at $499 (with no 3G and just half (16GB) of the Xoom's storage). The Xoom also had a few initial hiccups: SD Card support was not enabled, and Flash support came on the tablet only weeks after launch. The less expensive Wi-Fi-only Xoom ($599) is on a par with the 32GB iPad 2.
Follow Daniel Ionescu and Today @ PCWorld on Twitter