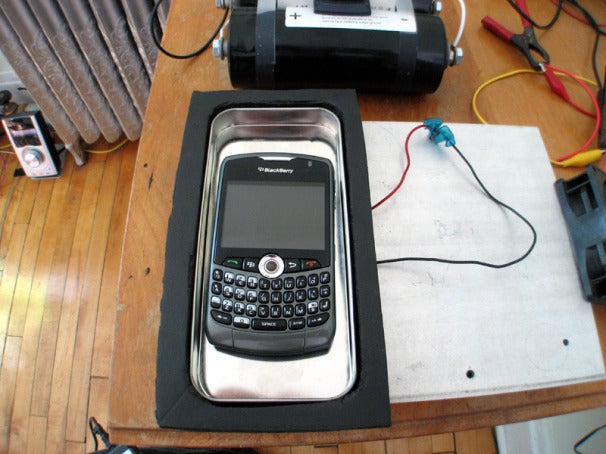 With most of the modern World now using cell phones, and a good portion of people using smartphones, you're probably aware that your battery needs to charge once in a while. What you may not know is that the standard lithium-ion battery used inside most phones loses aproximately 20% if its charge capacity per year at room temperature–and an even higher percentage under higher temperatures or other extreme conditions. One crafty person on the Afrotech Forums has come up with a solution that will help reduce his batterie's degradation from 20% per year to about 14%.
Afrotech user Dr. West (you must be registered to see user-profiles), the same user who created a touchpad out of paper and pencil lead, decided that waiting around for his (her?) blackberry to die was out of the question, particularly because they are "not one for doing nothing."
Using a behemoth heat sink, a cooling tray (geometry set container), thermally conductive paste, a metal tray, some screws, cardboard, insulation, a thermometer, some wires, and of course the Peltier thermoelectric effect, Dr. West was able create a bedside cell phone cooler that gets their phone down to 0º C while they sleep. The cooler is open (no cover) so that any condensation can evaporate.
The solution is simple: Plug in your phone before going to sleep, put it on the cooler, and go to sleep. When you wake up in 8, 9, or 12 hours your phone is fully recharged and healthier than ever. This is a great idea if you want to keep your battery performing at its best for years to come, but if you're like most people then you could just spend the $3 and buy a new battery every couple of years, or just replace your phone like normal people do when it gets old and goes on the frits anyway.
But if you're not like normal people, check out the full details over at the Afrotech forums.
[Dr. West (Afrotech Forums) via Hack A Day]
Follow James Mulroy on Twitter to get the latest in microbe, dinosaur, and death ray news.
Like this? You might also enjoy…
Get your GeekTech on: Twitter – Facebook – RSS | Tip us off