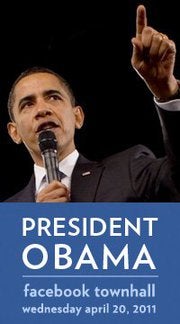 President Barack Obama will meet with Facebook CEO Mark Zuckerberg when he travels to the Palo Alto headquarters of the social networking company for an online town hall meeting later this month. The president and Zuckerberg will be joined by Facebook COO Sheryl Sandberg for the discussion that will be Web-cast at 4:45 p.m. Eastern on Wednesday, April 20 at WhiteHouse.gov/live and Facebook.com/WhiteHouse.
The president is using the opportunity to discuss the challenges and sacrifices confronting Americans as the government seeks a "more responsible fiscal path" while still investing in the "innovation economy," according to a White House blog post.
During the event, President Obama will answer a series of pre-selected questions from the public submitted by Facebook users on the town hall event page. Non-Facebook types can also submit questions for the president on the White House Website here. At the time of this writing more than 7000 Facebook users had RSVP'd they would be attending the online event.
The president recently kicked off his 2012 re-election campaign and appears to be counting on support from online activists as he did in the 2008 campaign. Besides the planned online town hall, the president's re-election Website has started a voter awareness campaign. The site encourages users to connect to BarackObama.com using their Facebook ID. You can then post a message about the upcoming election to others and encourage them to connect with the president's site.
The Republicans have yet to select their presidential candidate for 2012, but the GOP is unlikely to be caught flat-footed with its online efforts as it was in 2008. Many well known Republicans said to be thinking about a presidential run already have significant online presences such as Michelle Bachmann, Haley Barbour, Newt Gingrich, Tim Pawlenty, and Mitt Romney.
President Obama may be the first sitting president to participate in a live Facebook event, but he is not the first person who has worked in the oval office to sit down for a chat with Zuckerberg. In November, former President George W. Bush visited Facebook HQ to promote his recent book Decision Points.
Connect with Ian Paul ( @ianpaul ) and Today@PCWorld on Twitter for the latest tech news and analysis.