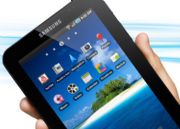 A flurry of recent missives might give the impression that non-Apple tablet prices are falling. However, these latest price cuts could be seen as a way to spur adoption of tablets that have languished on shelves, as opposed to efforts to undercut Apple's wildly popular iPad 2.
Both Sprint and Verizon Wireless have announced cuts for the original 7-inch Samsung Galaxy Tab, which first began shipping in November 2010. On Sprint, the Tab now costs $200 with a two-year contract, down $100 from its first price cut back in January, and down from the original launch price of $400 on contract. The Verizon Galaxy Tab is down to $500, which slices $100 off the launch price. And all of these devices have to compete with Apple's iPad 2, which starts at $499.
One could argue that Sprint's tactic is to gain more subscribers for its wireless data services, but I'm less convinced. Rather, I sense this is a lifecycle shift. After all, Galaxy Tab is, in practicality, older than it might seem at first blush: It was rumored last summer, and introduced at the IFA show in Berlin in September. Yes, it first shipped two months after that, but the device and its components were locked down far sooner.
Samsung hasn't confirmed when the Tab will reach the end of its life–in fact, the company has just announced that it would start selling a Wi-Fi-only version of the tablet for $349. Still, I'd suspect that that these price drops are a sign that Galaxy Tab is getting closer to the end of its run, which would make sense given that its components and Android 2.2 operating system already feel dated by comparison to the dual-core goodness of the next-gen Android 3.0 tablets. Another part of the complex equation: Carriers need to make way for newer tablets like this summer's larger-screen Samsung Galaxy Tab 10.1 and Galaxy Tab 8.9, and the Sprint Evo View (the Sprint 4G variant of the HTC Flyer).
Meanwhile, I won't be surprised to see carriers to kick up the incentive to sign a data contract as we move into the summer. With the coming boon in Wi-Fi only tablets (Motorolas Xoom, already shipping; and the forthcoming , HTC Flyer, RIM PlayBook, and HP TouchPad), carrier breaks for committing to a contract will need to be especially enticing to dissuade consumers from shucking mobile broadband entirely to save dollars.
If you're planning to buy a tablet, which way are you leaning? Connected all the time with a wireless broadband contract, or Wi-Fi only? Let us know in the comments.