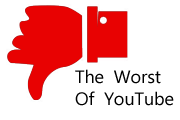 Everyone has a favorite online video or a few perennial favorites that they enjoy watching over and over again, but isn't it almost as much fun to hate one? The music video by that band you detest, the comedy skit that isn't funny, and if somebody sends you that awful viral video one more time…
Join us as we revisit some of the most hated videos in the history of YouTube. If you have a "favorite to hate" that we missed, let us know in the Comments below.
Never Gonna Give You Up
By now, pretty much everybody on Earth has been Rick Rolled–exposed at least once to Rick Astley's "Never Gonna Give You Up" video against their will. If you've somehow avoided getting tricked into looking at it so far, consider yourself lucky. Everyone from news anchors to the Macy's Thanksgiving Day Parade has been victimized. Oddly enough, the Rick Roll videos rarely pile up large numbers of Dislike votes–but any list of hated YouTube videos seems incomplete without "Never Gonna Give You Up."
Here it is:
With its impressive total of more than 31 million views, this video has garnered about 3400 Dislikes and 38,000 Likes on YouTube. And of course, like other hugely successful YouTube efforts, the video has become a magnet for ads. So now the ads AND Rick can drive everyone crazy.
Evolution of Dance
When it was uploaded in April of 2006, Judson Laipply's quick dance medley quickly rocketed to the number one spot among most-viewed videos on YouTube, and it has continued to post high numbers ever since (the current total sits at almost 170 million views). But along with popularity came a backlash: Evolution of Dance is also the 10th most disliked video on YouTube. Laipply seems not to have let the negativity slow him down, however. In 2009, he posted a sequel to the "Evolution of Dance"–and he proudly advertises the video on his homepage.
"Evolution of Dance" has racked up 63,417 Dislike votes on YouTube, but that figure is dwarfed by the impressive 726,745 Likes it has received. Not too shabby a showing for a video that has collected more than 168 million views.
Chocolate Rain
From the nonsense lyrics to the low-quality video to the voice that just should not be coming out of the body of that singer, "Chocolate Rain" is one of the most surreal videos on YouTube. That supreme weirdness explains both the popularity of the video (and of its creator Tay Zonday) and the widespread backlash against it. Ultimately, you're unlikely to mistake "Chocolate Rain" for a good song, but of all the hated videos cited here, it may be the most fun.
So far, "Chocolate Rain" has accumulated 70,605 Dislikes and 314,748 Likes, from a total viewership of more than 64 million hits.
Bad Romance
No matter what she's doing, from wearing food to the Grammys to introducing a line of *ahem* unique gadgets for Polaroid at the Consumer Electronic Show, Lady Gaga elicits strong reactions. Some people love her, and some people love to hate her. Her YouTube videos follow the same pattern: This video for her hit single "Bad Romance" has collected millions of hits, but it's also the 5th most disliked video on YouTube. In case you've been hibernating and have never seen it, here it is (warning, like all Lady Gaga videos, it contains some disturbing moments):
"Bad Romance" amassed a large number of Likes–391,062, to be exact–to go along with 83,592 Dislikes. With more than 364 million hits, though, you have to expect some criticism.
Numa Numa
Numa Numa is a great example of the law of diminishing returns. The first time you saw this guy freaking out to a weird techno-song on his Webcam, it was pretty entertaining. The fifth or sixth time, it was still worth a chuckle. But around the 40th time somebody sent you the video, it started to lose its luster. Like many other Internet memes, the Numa Numa guy spawned a lot of imitators, but none of them have had the irritating staying power of the original.
With 19,820 Dislikes and 225,894 Likes, this is one of the less virulently disliked videos in our list. It managed to accumulate more than 40 million views, too, which is impressive, though nothing compared to certain much more hated videos. Stay tuned for…
Baby Featuring Ludacris
Oh, Justin Bieber… If anyone illustrates the double-edged sword that is popularity on YouTube, it's JBiebs. Gauged purely by the number of times a disgruntled viewer has pressed the Dislike button for a particular video, he is gold. Not only is Bieber's video for the song "Baby" the second most-hated song on YouTube, but he shows up on the top 10 list of most disliked videos FIVE. SEPARATE. TIMES. Here's "Baby Featuring Ludacris":
The amazing 1,214,024 Dislikes and 601,664 Likes for "Baby" become less surprising when you read comments like "Just came for my daily Dislike." However with over 500 million views, Bieber can lay claim to the most viewed video on YouTube.
In fact, until a few weeks ago Bieber, still sporting his weirdly pasted-to-his-forehead-and-blow-dried hair, reigned as the dominator of the Dislike button, but then came…
Friday
The video that the Internet loves to hate right now is young Rebecca Black's "Friday." In the six weeks since it was posted on YouTube, Ms. Black's video has rocketed to the top spot as the site's most disliked video, blowing past Justin Bieber's efforts in the process. Clearly influenced by some similarly terrible pop hits already up on YouTube, the video has since inspired quite a few parodies and covers. Still, at the end of the day, "Friday" sits proudly on the throne as the single worst video on YouTube (until the next bad one comes along).
Racking up an astonishing 1,673,978 Dislikes as against a relatively scanty 211,672 Likes, this truly is the most disliked video on the Internet today.
In contrast, Stephen Colbert's recent duet of "Friday" with Jimmy Fallon of the Late Show and the show's house band The Roots is pretty good. The performance was initiated when Colbert lost a bet with Fallon (all for a good cause). Check it out:
Want to know more about some of the stars of these hated videos? Read: A Decade of Internet Superstars: Where Are They Now?