CNET took a closer look at the Chrome OS source code and discovered that Google programmers are bringing the browser-based operating system to tablets.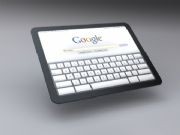 The evidence is clear: changes in the coding explicitly reference a virtual keyboard, an "optimized for touch" interface, and more. Though the company never said it wouldn't use Chrome OS on tablets, up until now it seemed as though Google was content giving it, perhaps foolishly, to the dying-if-not-dead netbook.
Google is hesitant to say one way or another. A spokesperson told CNET that Chrome OS was designed to "work across a variety of form factors" but that for the initial release, Google is "targeting the notebook form factor."
Chrome OS has already appeared on Google's test netbook, the Cr-48, and a $200 Asus netbook sporting the Web-connected OS is slated for release in June. Samsung will also release a Chrome OS netbook sometime in mid-2011.
While some think Google would be foolish to plant Chrome OS on tablets, it does seem, on paper at least, like a match made in heaven. The Chrome OS requires a constant connection to the Web; tablets that aren't connected to the Internet are, in many ways, just overinflated smartphones that can't dial out. And though the Chrome browser apps weren't as mind-blowingly popular as some might've hoped, they are perfect for tablets.
But what about Android? Is Google ready to undermine its smartphone OS just as it has ascended to the top of the market? Would two Google app stores, one for Android and another for Chrome OS, end up cannibalizing one another?
Not if Android and Chrome merged to become one OS. Google cofounder Sergey Brin has previously suggested that Android and Chrome OS are "likely to converge over time." Now may be that time.