Google is trying to make Android more appealing to businesses by adding IT administration tools to Google Apps that can encrypt Android tablets or remotely locate a lost Android phone and reset the PIN.
In a new blog post, Google product manager Mayur Kamat announced that "With the new version of the Google Apps Device Policy app, employees can quickly secure a lost or stolen Android 2.2+ device by locating it on a map, ringing the device, and resetting the device PIN or password remotely via the new My Devices website."
MOBILE SECURITY: Android improves, but trails iPhone and BlackBerry
Android 2.2 and up is used on mobile phones, while Android 3.0 is for tablets, such as the Motorola Xoom. To make Android tablets more business friendly, Google Apps customers will now be able to require encrypted storage on tablets running Android 3.0.
The tablet encryption requirement is achieved through an API that lets administrators enforce policies such as encryption and the aforementioned PIN reset. As with Android phones, it appears that Android tablets will support software-level encryption but not the more robust hardware-level encryption.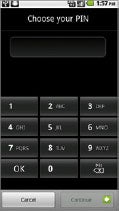 The PIN reset and encryption features, as well as a new tool for looking up corporate contacts, will be rolled out to Google Apps business and education customers. Google Apps for Business costs $50 per user per year for Gmail, Google Docs, Calendar and several other applications. (See also: Google Apps basics.)
It only makes sense for Google to bring IT administration tools for Android right into Google Apps.
"With more than 300,000 devices activated per day globally, Android is seeing rapid adoption in the post-PC era," Kamat said. "Android works quite well with Google Apps, but we're working to make it an excellent choice for both end users and IT at businesses and schools."
This week's Google announcement doesn't say anything about the ability to remotely wipe all the data off an Android device, a key requirement for many IT organizations. However, Google already announced remote wipes and other features last October when it first released the Google Apps Device Policy application, which can be downloaded on the Android Market.
The application, in combination with a Google Apps subscription, lets IT "remotely wipe all data from lost or stolen mobile devices; lock idle devices after a period of inactivity; require a device password on each phone; set minimum lengths for more secure passwords; [and] require passwords to include letters and numbers," according to Google.
Google Apps for Mobile also includes administration tools for rivals iPhone, BlackBerry, Windows Mobile and Symbian. Managing multiple types of devices will be key for any mobile management platform because the smartphone market is not dominated by any one single vendor.
Microsoft just recently, for example, expanded its System Center management capabilities to iPhones, iPads, Android and Symbian. (See also "iPhone, Android, Windows and Linux: Microsoft now manages them all.)
Follow Jon Brodkin on Twitter: www.twitter.com/jbrodkin
Read more about wide area network in Network World's Wide Area Network section.