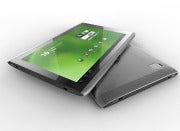 This spring's march of the tablets continues, with Acer lifting the veil off its Iconia Tab A500. First introduced last November, the10.1-inch Iconia Tab A500 made appearances across the 2011 trade show circuit, popping up at CES, Mobile World Congress, and CTIA; but it never surfaced with a launch date, let alone the actual Android 3.0 operating system the tablet ships with.
That all changes, starting now. Acer announced its Iconia Tab A500 will be available for preorder starting today (April 8), exclusively at Best Buy, and will be on sale for $450 beginning April 24. The Iconia Tab will hit stores just five days after the RIM PlayBook, and it will be only the second Android 3.0 (Honeycomb) tablet to market–assuming no other tablets surface between now and then. This model's specs won't break any records, but when taken together, they make this tablet look appealing–especially when considering its price, which is $50 below that of the lowest-priced Apple iPad 2.
The Iconia Tab A500 is the largest of the three tablets that Acer has already introduced. Like the Motorola Xoom, the Iconia Tab A500 has a 10.1-inch display, and runs a 1GHz Nvidia Tegra 250 dual-core processor. While its specs look familiar, the tablet weighs a bit more than the competition, tipping the scales at 1.69 pounds, as compared with Xoom's 1.6 pounds and Apple's iPad 2's 1.3 pounds. It's also a bit thicker than its competitors, coming in at 0.52 inches thick versus iPad 2's 0.34 inches and Xoom's 0.5 inches.
In early demos, though, the Iconia Tab A500 appeared promising, with a solid, aluminum build. The Wi-Fi-only tablet carries other familiar-sounding specs, including a 1280 by 800 pixel, 16:10 aspect ratio display; 802.11 a/b/g/n Wi-Fi; Acer clear.fi for DLNA support; 16GB of internal storage; and a microSD card for up to 32GB of additional storage. This is the first of the next-gen tablets to ship with a functioning card slot–a feature that boosts the Iconia Tab's viability as compared with the iPad 2, which lacks a card slot, and the Xoom, whose card slot remains inactive for now. The tablet also has Dolby Mobile audio built in–the first of the tablets we've seen to do so for big sound. And unlike the Xoom, the Iconia Tab supports Adobe Flash 10.2 out of the box.
The built-in cameras are among the better specs we've seen, too: The Iconia Tab has a 5-megapixel rear-facing camera with flash, and a 2-megapixel front-facing camera for video chat.
Acer says the tablet's two batteries will provide a total of eight hours of game-play and movie-playback time, or 10 hours of Web browsing over Wi-Fi. Among the preinstalled apps are the seemingly standard choices like the games Need for Speed: Shift and Let's Golf, along with Acer's LumiRead app and Zinio.
In addition to the tablet, Acer announced several accessory options as well. A Bluetooth keyboard will sell for $70, a dock with IR remote and two tilt angles will sell for $80, and a case (which also supports vertical and horizontal tilt) will sell for $40. The power adapter set will cost $30.
With Acer's addition to the tablet party, the dance floor is getting quite crowded. Look for PCWorld.com's full review as soon as the Iconia Tab A500 becomes available.