Work with any team long enough, and sooner or later you'll run across this scenario:
Person A needs to put together a proposal for Project X, but can't do that until teammates B and C do tasks 1, 2, and 3. But Person C is overloaded and item 3 is at the bottom of his to-do list, so the proposal is on the back burner until C further notice.
Sound familiar? In an ideal world it shouldn't, but it probably does.
Effectively tracking relatively simple projects still requires a clear view of all the tasks that make up the project, and that includes understanding all the little dependencies that block your progress on the road to completion. Most robust project management tools handle dependencies in some form, but they typically leave overall prioritization in the hands of individual team members. Cohuman helps prevent one person's long to-do list from delaying shared projects by intelligently prioritizing tasks according to dependencies.
Here's an example: Person A needs to put together a proposal for Project X, but can't do that until teammates B and C do tasks 1, 2, and 3. In Cohuman, Person A can edit his "put together proposal" task to identify blockers 1, 2, and 3. Once that's done, those tasks automatically rise to the top of his teammates' to-do lists.
That's a fairly simplistic example, of course, and in reality we all tend to have multiple dependent tasks that impact the entire team in a variety of complex ways. Cohuman deals with this by using task metadata to weight the importance of each task on every member's list with a Task Score, and automatically sets priorities according to the scores. If you disagree with Cohuman's priorities, you can manually override them just by dragging and dropping a task in the list, but it does a pretty solid job on its own.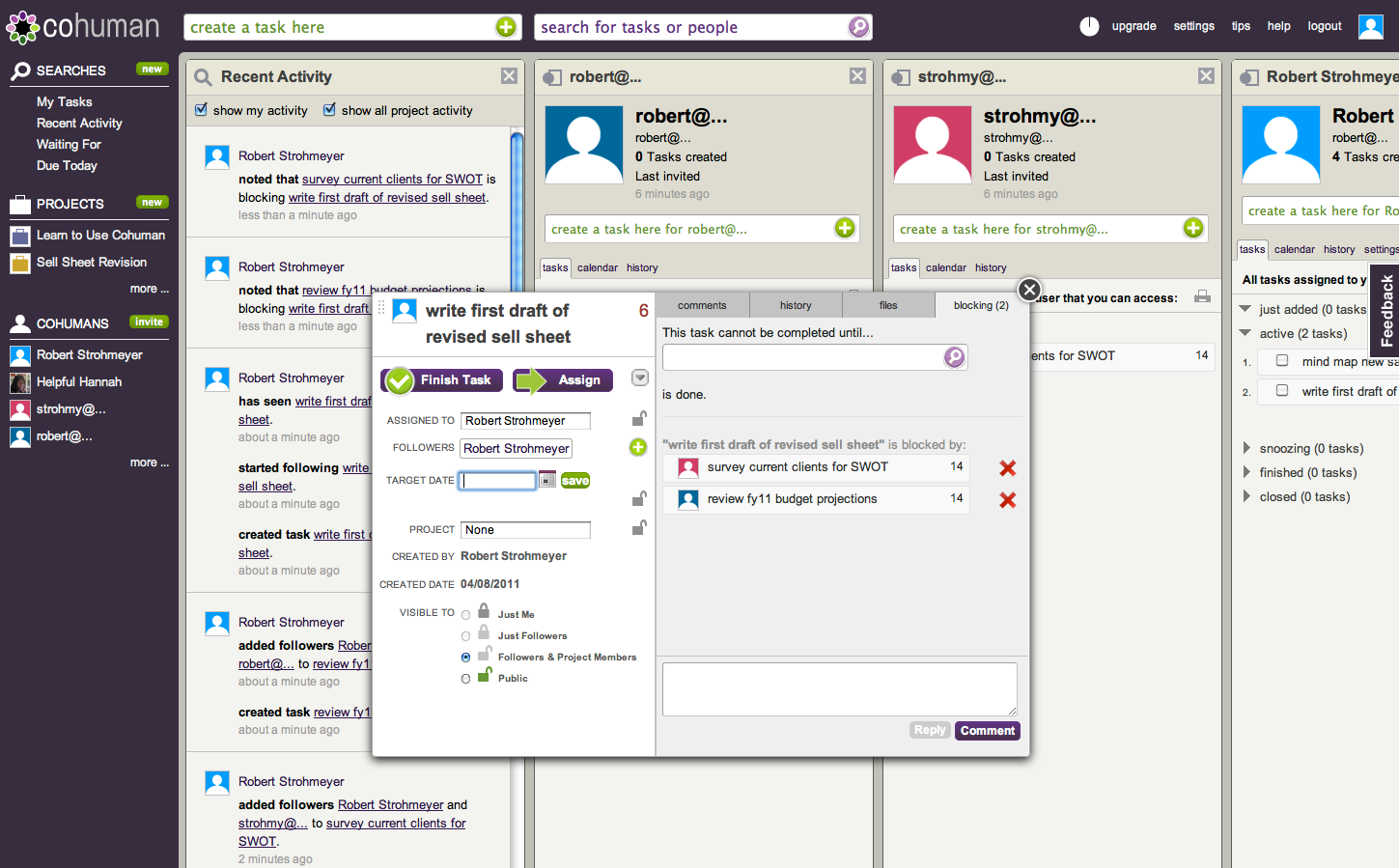 Significantly, Cohuman lets each member of a collaboration view everyone else's task lists, so everyone can see where the blockers are and head off potential hang-ups before they cause trouble. It's a democratic approach that's great for teams in which there is no single project manager.
Cohuman is a freemium service, offering a gigabyte of storage and unlimited projects for free users. For $20 per month, you can upgrade the storage to 10GB.
When you purchase through links in our articles, we may earn a small commission. This doesn't affect our editorial independence.