Asus has refreshed its racy Lamborghini VX7 gaming laptop with the latest Sandy Bridge processor and other high-performance hardware, making the VX7 Asus's most powerful laptop to date.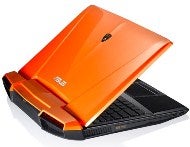 Continuing the Asus-Automobili Lamborghini partnership, the VX7 mimics the exotic styling of the famous Italian supercars. Premium and thematic design touches include: leather-trim palm rests, an illuminated Chiclet keyboard, rear taillights, an engine start power button, and, of course, a classic Lamborghini roar on startup. It's available in glossy metallic black or you can get an impossible-not-to-notice orange paintjob.
The VX7 doesn't just look fast. Asus has packed the premium laptop with a second-generation Intel Core i7 quad-core processor (2.0GHz), a huge 3GB of video memory via the Nvidia GeForce GTX 460M graphics card, up to 16GB of DDR3 memory, and super-speed USB 3. With the 8-cell battery, the VX7 weighs 8.42 pounds.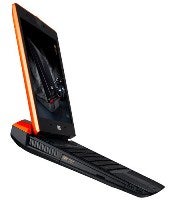 As for customization options, the 15.6-inch display is available as either 1920-by-1080 HD or 1366-by-768 HD 3D. You can add up to two drives in various combinations for up to 1.5TB of storage (two 750GB 7200rpm hard drives, for example, or one 500GB 7200rpm drive with 4GB SSD). There are also options between DVD and Blu-ray writers and readers.
Interested in the VX7 for your high-octane gaming experience on the go? The laptop has been spotted available for pre-order at a price of $2,269 at sites like ExcaliberPC and XoticPC (via Endgadget). While you wait, you can also get more of a Lamborghini VX7 fix with desktop wallpapers from Asus.
Follow Melanie Pinola (@aboutmobiletech) and Today@PCWorld on Twitter