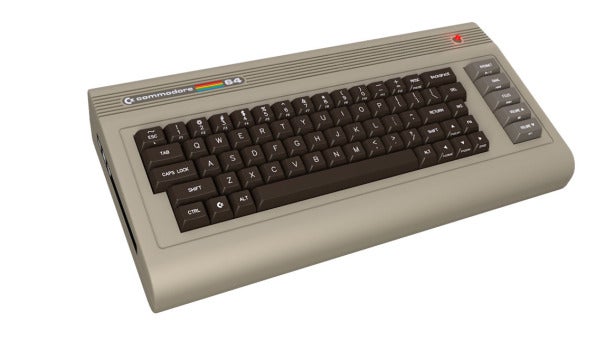 I wasn't born when the first Commodore 64 came out–in 1982–but I can still appreciate some good ol' vintage computing. And apparently Commodore thinks other people can appreciate this too, because they're re-releasing the Commodore 64 with modern specs and retro casing.
The new Commodore 64 is, like the old 64, an entire system inside a (rather thick) keyboard. The old Commodore 64 originally cost $595 and featured an MOS Technology 6510 microprocessor, an impressive 64KB of RAM, and VIC-II graphics that supported a screen resolution of 320 by 200 pixels.
The new system, which also starts at $595, is a little more modern: it's got a Dual Core 525 Atom processor, an Nvidia Ion2 graphics chipset, 2GB of RAM (upgradeable to 4GB), a 160GB hard drive, and built-in Wi-Fi. On the left side of the keyboard there's a slot or tray-load DVD (upgradeable to Blu-ray), and on the right side there's a multi-format card reader, along with a USB 2.0 port. The rear features four additional USB 2.0 ports; mouse and keyboard PS/2 ports; DVI, VGA, and HDMI ports; Ethernet; and support for 6-channel HD audio. It runs Linux, but you can install Windows if you like.
Pretty cool for a computer that looks like it's from the 80's. Of course, if you just want the look–and you want to throw your own stuff inside–you can also order the "Barebones" package on the new Commodore 64 Website. The Barebones package costs $250 and gets you the case, chassis, keyboard, and multi-format card reader with USB 2.0 port. On the other hand, if you'd like to go all out, there's also an $895 "Ultimate" package that includes a Blu-ray drive and a 1TB hard drive.
The new Commodore 64 begins shipping at the end of this month, but you can order yours now–go get your BASIC on!
[Commodore via New York Times and Gizmodo]
Follow Sarah on Twitter (@ geeklil) or on Facebook.
Like this? You might also enjoy…
Get your GeekTech on: Twitter – Facebook – RSS | Tip us off