Google announced three large updates for its Android for Business portfolio on Thursday. The updates focus on security and connecting with colleagues, and will be available to all customers of Google Apps for Business and Google Apps for Education.
The first update upgrades the Google Apps Device Policy app. This app already enabled an admin to remotely wipe data, lock idle devices, and set the minimum level of security for a password, but this update beefs it up considerably. Employees can now locate a lost or stolen device on a map, ring the device (in case it's just misplaced somewhere in your office), and reset the device PIN or password remotely all via the new My Devices Website.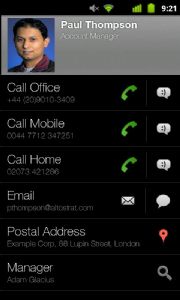 Note that most of these features will only work with devices running Android 2.2 (Froyo) or higher. Currently that accounts for roughly 65 percent of Android devices. Of course, there are several third-party apps that offer similar features, but it's good to see Google building this into Android's core functionality, which will certainly help facilitate corporate integration, especially if your company already uses Google Apps.
With the second update, Google Apps administrators can now encrypt data on Android 3.0 (Honeycomb) tablets in their "Encrypt Data on Device" control panel. With the Motorola Xoom already out in the wild and many more Honeycomb tablets on the way (including a rumored Nexus Tablet from Google), this is a big deal. As I discussed in a recent guide to Smartphone Security, unencrypted data stored on devices has been one of the main obstacles for Android's integration into the corporate ecosystem. This means that people who want to use tablets for business will have more options that are more secure. Devices must have version 2.0 or higher of the Google Apps Device Policy app in order to use this feature.
The third announcement is Google Apps Lookup, a new corporate contacts app intended to make it easier to find and contact others within your organization. Using the app, you can type or speak the name or e-mail address of a colleague, and then tap to contact them via phone, e-mail, IM, or text message. Administrators will need to enable "Shared Contacts" in the control panel, but once they do Lookup pulls information from the Google Apps directory. Should a coworker's information change it will always be kept up to date on everyone's device. Android 2.1 (Éclair) or higher is required for Lookup.
While none of these updates are absolute "game changers" they each represent a significant step forward for the platform. Google is trying to make it harder for admins to say no to Android devices, and each of these updates will help in that effort.