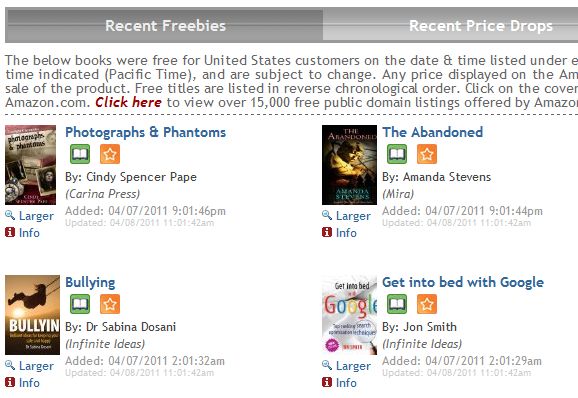 I love my Kindle. (Actually, I love the Kindle apps on my iPhone and iPad even more.) But you know what I hate? E-book prices. I know authors and publishers and everybody in between need to make a living, but there's simply no reason an e-book should cost almost the same as its hardcover or paperback counterpart.
Fortunately, Amazon frequently offers e-book freebies and discounts. And I've found no better way of browsing, searching, and tracking these wallet-friendly options than at eReaderIQ. The site maintains a huge, frequently updated database of free and discounted Kindle books.
Scroll down a bit on the home page you'll find the Recent Activity section, where you can click to switch between recently added freebies, recent price drops, and recently "Kindlized" books (i.e. those that have just made the move from print-only to e-book).
For any of the freebie listings, clicking the little green book icon will launch a preview window, where you can read the actual book in Amazon's currently-in-beta Kindle Web viewer. The orange star icon shows user reviews, while the Info link gives you a book summary.
The site also offers a Price Drop Tracker: Just enter the ASIN or URL for any book, your e-mail address, and a notification threshold (the price at which you want to receive an alert) and eReaderIQ will notify you when the book hits that price.
If you love e-books but hate paying high prices, eReaderIQ is one site you'll definitely want to bookmark.