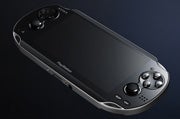 The rumors are true: Music Unlimited, Sony's cloud-based streaming music service, will launch on the PSP platform April 14.
The Sony cloud platform, Qriocity, is remarkably similar to the Amazon music-in-a-cloud store announced March 29, and most likely the Google music-in-a-cloud store that's allegedly lurking in the wings.
"The heart of the offering here is that with the one account you can access this music on your TV, your PS3, your laptop, your Blu-ray player, and have your music follow you wherever you go, rather than having to download all of your music into a device and make that device go with you everywhere," Shawn Layden, executive vice president and CEO of Sony Network Entertainment, told Eurogamer last week. It's also a streamlined way to sell PSP users all kinds of digital stuff.
"The idea is to make your PlayStation ID your ubiquitous sign-on wherever you go and also allow you to trade off the same wallet," Layden added, "so you don't have to charge up different wallets here for that."
Already good to go on TVs, laptops, Blu-Ray players and the PlayStation3 console, Music Unlimited and its 6 million tunes will be accessible to PSP users via WiFi next week. It requires a PlayStation Network account, the handheld's latest firmware update (6.3.7) and a subscription ($3.99 a month, $9.99 for premium features) after a 30-day free trial.
Layden said Music Unlimited, and other services on Qriocity, will show up this year on Sony Ericsson's new Android devices, including the Xperia Play, then on the upcoming NGP, and ultimately Sony's Playstation Tablet we've been hearing so much about.
The real question is whether adding music on demand to the PSP and its successors will be enough to distract fickle gamers from Nintendo's shiny new 3DS.