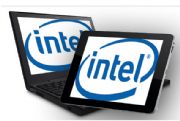 Intel this week is expected to provide a glimpse into the future of low-power Atom chips for netbooks and tablets as it tries to ratchet up competition with rival ARM in the tablet market.
Intel will detail its upcoming netbook processor, which is code-named Cedar Trail and is expected to ship next year, at the Intel Developer Forum in Beijing on April 12 and 13. It will also share details about subsequent tablet and netbook chips due in 2013, said Bill Kircos, general manager of marketing at Intel's netbook and tablet group.
Tablets based on the Atom chip code-named Oak Trail also will be on display at the event, Kircos said. Oak Trail, which marks Intel's first foray into the consumer tablet market, will appear in tablets starting in May.
Intel established a separate tablet and netbook unit in late December in an effort to boost its presence in the tablet market, where it has virtually no presence. Most tablets, including Apple's iPad 2, run on chips with ARM processors, which are considered more power-efficient than Atom chips.
Intel hopes to close the power and performance gap with ARM by 2013, by which time Intel could be on par with its rival on power consumption, Kircos said. Intel is also investing billions of dollars to upgrade factories as it tries to add more on-chip features and reduce leakage.
As Intel looks for a future in tablets, ARM processors are becoming faster while maintaining low power consumption. Tablets with dual-core ARM processors are just starting to hit shelves, but chip makers are already showing quad-core chips for devices. Nvidia in February showed off a quad-core Tegra chip code-named Kal-El, which the company said could reach tablets later this year.
Intel wants to provide the "all-day" experience with tablets, Kircos said. It wants to take the battle to ARM not necessarily by adding cores, but through unique features that separate its chips from ARM offerings.
Intel is putting that concept to action with Cedar Trail, which will include 10 new features to make netbooks more attractive computing devices, Kircos said. The features include Wireless Display for streaming netbook content wirelessly to TVs, Wireless DJ for streaming music to speakers, and a technology to wirelessly transfer data directly from one PC to another. More Cedar Trail features will be shared at IDF Beijing, Kircos said.
Such technologies could be added to Atom tablet chips in the future, Kircos said. Intel also wants to include PC chip features such as the VPro management and security platform to protect and support tablets. For example, VPro's antitheft technology will let IT managers remotely disable stolen or lost tablets by sending instructions to the devices over wired, wireless or cellular networks. Once the device is recovered, a user will then be able to reactivate it through a code provided by the IT department.
Intel has already said it wants to integrate 3G/4G radios and security features into future Atom chips. Intel this year completed the acquisitions of security company McAfee and Infineon's wireless unit, from which it got radio technology.
But Intel first needs to address power consumption to provide tablets with a longer threshold of standby time, Kircos said. The company is doing that through advances in manufacturing technology.
Cedar Trail will be made using the 32-nanometer manufacturing process, which is used to make the latest Core i3, i5 and i7 chips. Current netbook chips are made using the 45-nm manufacturing process.
In 2013, the company will refresh its tablet and netbook chip lines simultaneously, Kircos said. Those chips will be made using the 22-nm process. Intel will start 22-nm manufacturing late this year, with the first chips likely going into PCs.