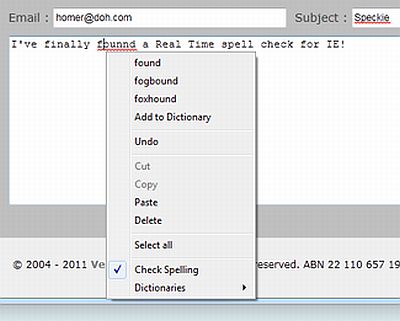 Among the many reasons I'm partial to Firefox is that Mozilla's browser has long offered a built-in spelling checker. (Not that I need it, of course–we payd riters learnt gud speling in skool.)
Internet Explorer, even in its latest release, doesn't do bad spellers any favors. Thankfully, there's Speckie, a free Internet Explorer add-on that provides real-time spelling checking.
After installing Speckie–which, incidentally, is compatible with all versions of Windows and all versions of Internet Explorer (including 9)–it immediately starts working, underlining any misspelled word with a squiggly red line. To see suggested correct spellings, just right-click the word.
If English isn't your primary language, you'll be glad to know that Speckie comes with a whopping 24 dictionaries, with languages ranging from Croatian to Vietnamese.
Bottom line: If you're an Internet Explorer user who needs a spelling checker for e-mail, Web forms, and other browser-based activities, Speckie gets the job done quickly and efficiently.