At a Glance
Expert's Rating
Pros
Bright screen with good viewing angles
Nice, business-like design
Cons
Small trackpad with poor scrolling feature
Craftsmanship seems a little shoddy
Our Verdict
This Acer seems to favor mobility over performance–a design preference we're not used to seeing in desktop replacement laptops.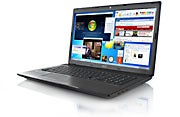 Acer's Aspire One 7552G-6436 may be packed with a quad-core processor and ATI Radeon graphics, but it can't keep up with most of PCWorld's top-ranked desktop replacement systems. Nevertheless, its light weight, bright screen, and affordable price may be just what some users are looking for.
Our review model, priced at $730 (as of April 11, 2011), came configured with a 2.1GHz AMD Phenom II N950 quad-core processor, 4GB of RAM (upgradable to 8GB), a 640GB hard disk drive, and an ATI Mobility Radeon HD 6650 graphics card. The desktop replacement also features a 17.3-inch glossy widescreen, a "floating" island-style keyboard, and a DVD-RW drive. The system runs a 64-bit version of Windows 7 Home Premium. It's not nearly as fast as the most powerful desktop replacement laptops we've tested, but it still delivers considerable bang for the buck.
The Acer 7552G-6436 is lighter than most other desktop replacement laptops, weighing in at about 7 pounds, 4 ounces. (The top-ranked Dell XPS 17 3D tips the scales at 9 pounds, 11 ounces.) The power brick is lightweight, too–and you'll probably need it, since the battery conked out after just 2 hours, 20 minutes in our tests. The laptop measures about 16.3 inches wide by 10.8 inches deep by 1.35 inches thick.
The Acer's chassis has a businessy color scheme: mostly black, with a little gray and some hints of silver. The cover is plain, with an etched criss-cross pattern and a silver Acer logo in the center. Inside, a shiny black bezel encloses the glossy screen, and a slate-gray brushed aluminum deck surrounds the island-style keyboard. The power button, located at the top left corner, is round with a sliver of blue light to indicate whether it is turned on. Elsewhere, there are just four other tiny indicator lights.
Port selection is average for the category. The left side of the laptop features a gigabit ethernet port, VGA- and HDMI-out ports, microphone and headphone jacks, and one USB 2.0 port. The right side has three additional USB 2.0 ports, a Kensington lock slot, and a DVD-RW drive. At the front of the laptop is a small multiformat card reader, which supports MS/MS PRO, xD, MMC, and SD cards.
On our review model, one of the right-side USB ports was slightly off-kilter, though this did not affect the port's usability. The Acer also has a built-in 1.3-megapixel Webcam and microphone, which is pretty much standard these days.
Like other Acer laptops, the 7552G-6436 has a full-size keyboard (with number pad) featuring floating Chiclet-style keys. The matte-black keys are large and nicely spaced, which should make the keyboard easy to type on. But because the keys give extremely light tactile feedback, touch-typists may find a lot of typos in their copy.
Each keystroke produced a loud thumping sound (along with the regular click) that reverberated through the keyboard, and our review model's keyboard was slightly warped. The problem didn't affect typing accuracy, but it was visually displeasing and doesn't speak very well of the builder's craftsmanship.
A thin silver border distinguishes the small, matte gray trackpad from the rest of the wristpad. At the bottom of the trackpad is a thin rocker-bar, in lieu of discrete mouse buttons; and on the right side is a scrolling section. The non-multitouch trackpad is a little sluggish and a little too small: You'll quickly find your finger at the edge. The rocker-bar is easily clickable, but the scrolling area works only half the time, so you'll have to use either the on-screen scroller or the arrow keys. Unfortunately, the Function key sometimes turns the arrow keys into volume controls, complicating the situation further.
The Acer's 17.3-inch glossy LCD screen has an aspect ratio of 16:9 and a native resolution of 1600 by 900 pixels. Color rendition and saturation seemed good, though colors occasionally looked washed out. Viewing angles are good, so looking at the screen from a fairly sharp angle doesn't seriously degrade the picture. Because of the glossy surface, you'll see plenty of reflections over your shoulder, but the screen's brightness combats this, if you're working in bright or direct sunlight.
The Acer 7552G-6436 disappoints in performance, with a World Bench 6 score of just 80. This is a dismal mark compared to the scores posted by the top-ranked desktop replacements on PCWorld's charts, but it is fast enough for everyday computing and reasonable for the budget price. Graphics performance is a little better, but still subpar for the category. In our Unreal Tournament 3 tests, the Acer managed a frame rate of 66.3 frames per second at a resolution of 1024 by 768 pixels, using high quality settings. By comparison, the (currently) #10 Sony VAIO VPCF13AFX managed 80.66 fps, and the (now) #1 Dell XPS 17 3D sustained 119.65 fps, both at the same settings.
Meanwhile, however, the Acer 7552G-6436 does well with regular multimedia, such as HD video streaming and music playback. The Acer's speakers, which are located above the keyboard, are loud enough to fill a small room. As on most laptop speakers, voices are a tad nasal, and bass is practically nonexistent–but the Acer's speakers are louder than most.
The Acer Aspire One 7552G-6436 is a lightweight, attractive large-screen laptop, but I'm not sure that the designation "desktop replacement system" fits it. After all, this laptop's two strongest features are its weight and its bright screen–key elements of any highly portable system. But if you're going to plant this model on your desktop, you can certainly do better–the Acer's workmanship and overall performance are unimpressive. If you're looking for a notebook that is more portable than powerful, however, this reasonably priced Aspire One's specs may sway you.