HTC stopped by PCWorld's offices last week to show off its latest Android smartphone, the HTC Sensation 4G. The phone was officially unveiled today at a launch event in the UK, but we got an exclusive hands-on look. Coming to T-Mobile this summer, the Sensation is a Qualcomm dual-core phone running the latest version of Android, Gingerbread. And though I was impressed with HTC's previous superstar, the Thunderbolt on Verizon, I have to be honest: In specs and design, the Sensation blows it out of the water.
Thin, Curved Design
Processing power aside, the Sensation is an exciting phone for a couple of reasons. First, it sports a 4.3-inch qHD (Quarter High Definition) display with a resolution of 960 by 540 pixels arranged in a 16:9 aspect ratio. This resolution is one quarter of a full-HD 1080p frame (hence the name) and three quarters of a 720p frame. The HTC EVO 3D for Sprint, which we saw at CTIA last month, has a qHD display, too, but with a parallax barrier (which creates the 3D image).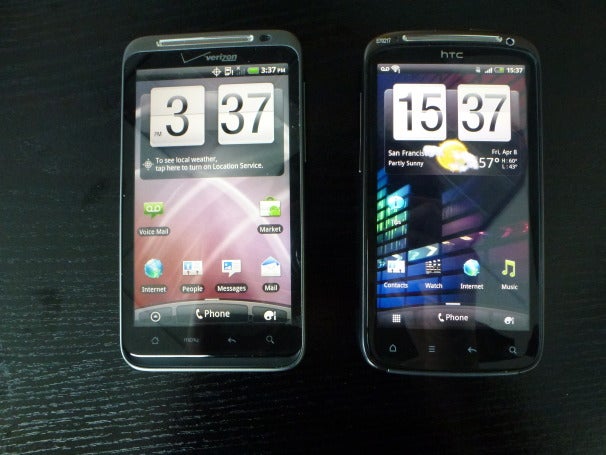 You also feel a change in design as soon as you hold the Sensation in your hand. The qHD display allows the phone to be relatively narrow, so it's easier to holding and navigate in one hand. Other 4.3-inch phones, such as the EVO 4G and the Thunderbolt, are wider and more difficult for me to use (I have small hands).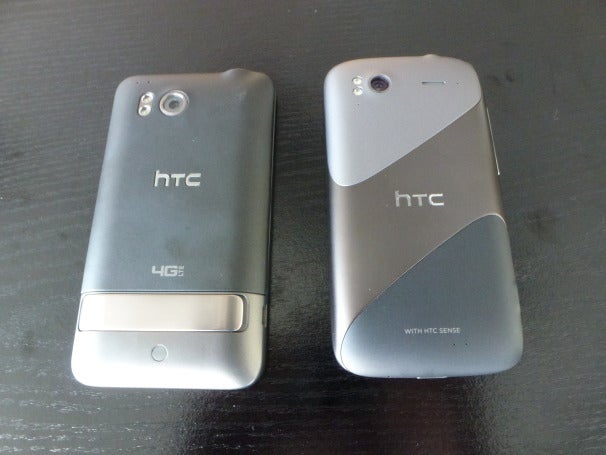 Because the display is slightly concave, it won't get scratched if you place it face down on a table.
New Sense User Interface
Like, the EVO 3D, the Sensation 4G sports the latest version of the Sense user interface, which has a new customizable lock screen. You can pick a theme for your lock screen (the phone offers quite a few to choose from) and then select four apps that you visit most frequently. When you turn on your phone, you'll see those four apps at the bottom of the screen. To unlock the screen, you drag the circle into position over an app, at which point you'll jump straight to that app. As a result, you don't have to go through multiple menus to reach your e-mail or other items that you access regularly.
The new version of Sense has a spruced-up Walls system, too. Rather than having to flick back and forth between your walls, as you do in the stock Android operating system, you can flick the Sensation's screen to make the walls spin. The effect is a bit reminiscent of a rotating carousel.
You'll find a clutch of new widgets in Sense, but my favorite is the gorgeous new Weather widget. HTC has a nice tradition of creating visual weather apps, and it is cool to see the company continue to improve them.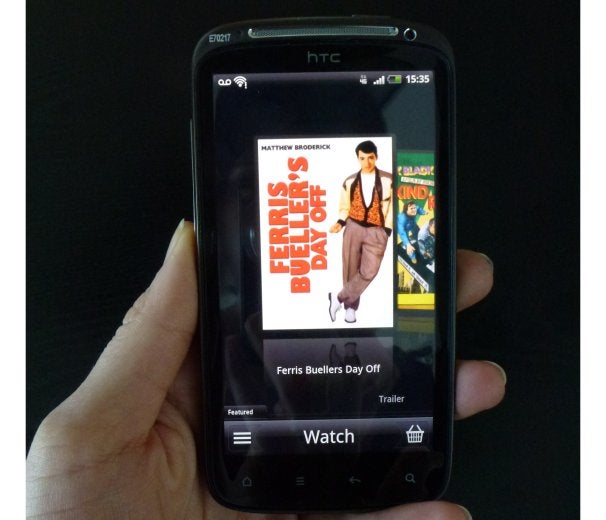 The Sensation also comes loaded with HTC's new movie and TV show streaming service, Watch. You can download videos from Watch and start viewing them immediately. Watch is nicely integrated into Sense so finding the videos that you want to watch is easy.
Like the EVO 3D and the Thunderbolt, the Sensation has a back-facing 8-megapixel camera and a front-facing camera for video chat. HTC says that it has tweaked both the hardware and the software to improve the back-facing camera's shutter speed. I definitely noticed the quicker speed in my hands-on tests. It doesn't matter how good a camera's image quality is if the device suffers from shutter lag, since the delay makes snapping photos of people or animals incredibly difficult.
Thunderbolt or Sensation?
While the Sensation has some impressive specs, we saw a big difference in performance between T-Mobile's HSPA+ network and Verizon's LTE network in our multicity 4G tests. The Thunderbolt achieved average data speeds of 18.30 megabits per second for downloads and 7.39 mbps for uploads. T-Mobile's Samsung Galaxy S 4G, on the other hand, turned in solid performance, but the average speeds that it clocked look 4G-like (3.38 mbps for downloads, 1.13 mbps for uploads).
The HTC Sensation 4G will be available exclusively from T-Mobile this summer. Pricing has not been announced. With the LG G2X and Sidekick also coming out soon, T-Mobile is definitely putting together a strong portfolio before its impending merge with AT&T.