If there is one thing that can be quite dull about desktop PCs, it's the casing. Minus a few particularly sleek-looking models, the cases–especially those for older PC models–have a tendancy to resemble a brick of black or gray molded plastic. That's where the world of casemods comes in.
It's a person's chance to really customize their desktops — notibly nice ones include the computer built into a desk. But for every sensible casemod made out there, there's hundreds of crazy ones. Behold, the GeekTech list of weird and wacky casemods!
Moo Cow Moo
As the name suggests, this casemod is based on a cow. The Moo Cow Moo mod is basically a hollow plastic cow prop (picked up in a Wal-Mart parking lot sale) with all the PC parts carefully stacked up inside. The various ports were cut into the cow's leg and the CD drive is a little slot on its back. Apparently, the cow mod even has upcoming mooing sound effects. What would have made this mod even cooler (or creepier)? Having the wires coming out of the udders as though it was being milked (it is a female cow after all!).
God of War
The God of War Kratos mod is pretty scary to look at, but once you get past that menacing stare and huge sword, there are a lot of awesome intricate details here. Sadly, not there is not a lot of information on how this was made, but you can get a full tour around the casemod if you watch the video below.
The Humidor Cluster
The Humidor Cluster is a pretty classy wooden PC made out of a cabinet-style cigar humidor. It actually looks really nice, despite the computer parts still being on display. To make it a little more funky there are also two fluorescent lights added along the side. Full details on how to make this are on the creator's Website, along with plenty of photos.
Matchbox PC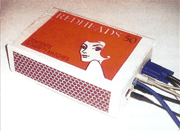 This has to be one on the smallest casemods going. This PC has managed to squeeze into a a little matchbox, with ports included. Technically, it isn't made from a real matchbox, but a cardboard replica made slightly bigger–there's only so small your PC parts can go. This mod even had room for a few LED lights, but it only has a 10GB hard drive.
Microwave PC
So, you have an old microwave that doesn't heat up food anymore, but don't have the heart to throw it out. What can you do with it? Make a PC case out of it! This mod brings a new meaning to the phrase "My computer is totally fried!". It uses the screen on the door as a monitor, though it's a shame it's not a touchscreen. Obviously, the components are all inside the microwave and you just open the door to get to them. See photos on the Hacked Gadgets forum.
AquaPC
Of all the list, this a firm favorite–a PC built into a fish tank. This is creator Robert Stoppels' second case mod, and is actually a fully workable tropical aquarium too, complete with water pumps and a constant water temperature for the fish. The actual PC is situated in the middle of the tank in its own glass cube. Can you imagine trying to work when you have such a beautiful aquarium to stare at instead? Nothing would ever get done. Check out this quick interview (and photos!) with Robert to learn more.
The Keg PC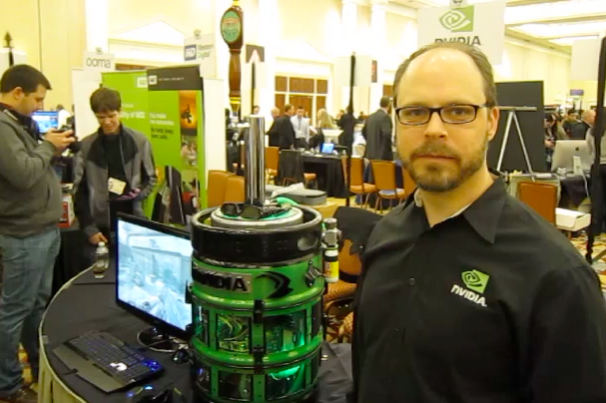 On display at this year's Consumer Electronics show, Nvidia's Keg PC is a computer built into a beer keg. It looks cool, but that isn't the best part: The keg actually works. See our story for more photos and a video of the Keg PC in action.
Windows XP Box (Photo at top)
The PC in a Windows XP box is a pretty literal casemod but is actually quite cool (if you are running Windows XP). There is even enough room in the box for a CD drive and case fans to stop it catching fire when working hard. There is even a Linux version so the modder can switch between operating systems quickly. Although it's made out of cardboard, it looks like a much more solid material. See the How-To list on the project page.
Digg PC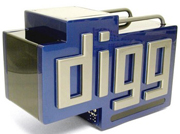 Digg has a pretty big fanbase, so why not comemorate it with the ultimate fanboy case? The Digg PC is made from fiberboard and acrylic, and has blue backlighting to illuminate the logo. It looks nice in the dark, but it's a bit of a pain when you decide to jump ship to Stumbleupon or Reddit.
PC Bender
Who doesn't love Futurama's trash-talking robot Bender? Jan Erik Vangen loved him so much, he's dedicated a talking PC mod to the him. PC Bender is made out of steel and paper sheets and metal kitchen bowls as well as a voice recorder for one of his famous catchphrases. Like the real Bender, PC parts can be reached by opening the door on the front of the mod. Check out the project listing for all the hardware and instructions. Oh and that catchphrase? He says "Bite my shiny metal ass" at the push of a button.
The Great Pumpkin PC
No Halloween is complete without a jack-o-lantern, but why not geek that pumpkin up a little but sticking a PC inside? The PCWorld Labs crew did just that, carving a pumpkin and inserting a PC into it. And it looks great. See our video of the Pumpkin PC.
Know of any more cool or strange casemods? Tell us in the comments!
Get your GeekTech on: Twitter – Facebook – RSS | Tip us off