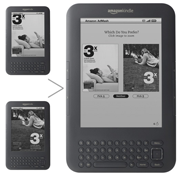 Amazon is slashing $25 off the price of its popular Kindle e-book reader, but there's a catch: it will feature ads. The new $114 e-reader is a 6-inch Wi-Fi Kindle (normally $139) but it will include advertisements on the home screen and in screensavers. The move hopes to make Amazon's Kindle e-reader more accessible. Amazon says it has no plans to display ads in more expensive Kindle models.
The adverts on the discounted Kindle are black and white and will only appear on the home page, and not when reading books. When the Kindle is idle it will also show special advertisements as screensavers. Amazon will also introduce an AdMash option, which will allow Kindle owners to vote their favorite sponsored screensaver.
Amazon named the first sponsors for these ads as General Motor (for Buick), Procter & Gamble (for Olay), and Visa. Amazon will also promote some of its own deals on the ad-supported Kindle, such as a $10 gift card with $20 worth of Amazon purchases, or a half-price Roku streaming video player.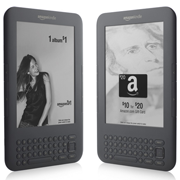 Amazon previously said that the Kindle has become the best selling product on its site, but never disclosed how many it has actually sold (analysts believe it has sold around 5 million devices last year).
The $114 Kindle With Special Offers will be available from May 3 from Amazon's site, Best Buy and Target. Amazon will continue to sell the regular Wi-Fi Kindle for $139, the Kindle 3G for $189 and the Kindle DX (9.7-inch screen) for $379.
In comparison, the Nook e-reader for Barnes & Noble starts at $149 for the Wi-Fi version, or $199 for the 3G model. At $35 more expensive, the Nook features a smaller color display beneath the e-ink screen. Barnes & Noble also sells a full-color Android-powered Nook for $249, and plans to add apps and Flash support to the device.
Follow Daniel Ionescu and Today @ PCWorld on Twitter