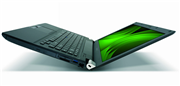 Toshiba announced on Tuesday its new range of slim, high-performance laptops geared towards business professionals, the Portege R830, Tecra R840, and Tecra 850. These Tecra and Portege laptops were reengineered from the ground up to be more portable than their predecessors, utilize second-generation Intel processors, and offer configuration options like solid state drives and optional discrete graphics.
The Portege R830 is billed as "the world's lightest 13.3-inch full performance ultraportable laptop featuring an integrated DVD drive." We took a peek at the consumer version of the Portege R830 when it recently went on pre-order and considered this ultraportable, which starts at 3.1 pounds and is about 1 inch thin, as an affordable alternative to the ultra-thin MacBook Air and Samsung Series 9 laptops.
The business-oriented version of the Portege R830 features more configuration options than the pre-configured Portege R835 consumer versions: Core i7 processor (in addition to the i3 and i5 options) and a choice of a 7200 rpm hard drive or 128GB solid state drive (in addition to the 5400 rpm option). Made for business-focused consumers, the laptop also uses Windows 7 Professional instead of Windows Home Premium and offers a longer three-year warranty than the one-year warranty for consumer models. The R830 is available now starting at $1,049 MSRP.
Moving up to the next display size, the Toshiba Tecra R840 features a 14-inch HD LED-backlit widescreen display. The Tecra R840 is like the Toshiba Tecra M11, but after a serious diet and makeover: the Tecra R840 is about 25 percent thinner and 20 percent lighter than its predecessor, measuring about 1 inch thin and starting at 4.2 pounds.
The Tecra R840 is available with Intel Core i3, i5, and i7 processors, as well as optional AMD Radeon discrete graphics with 1GB of dedicated memory and either a 7200rpm hard drive or SSD. The Tecra R840 has a battery life rating of up to 11 hours with the SSD drive. Pricing starts at $899 MSRP.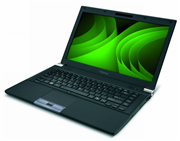 Tecra R850
Finally, for business users who want more screen real estate, Toshiba is also offering a new desktop replacement laptop, the Tecra R850 with a 15.6-inch widescreen display and built-in 10-key numeric pad. Despite its desktop-like features, the Tecra R850 also measures about an inch thin, like the Portege R830 and Tecra R840, and has a starting weight of 5.3 pounds. This makes the Tecra R850 19 percent thinner and 6 percent lighter than the Tecra A11.
The Tecra 850 also comes in Core i3, i5, and i7 flavors, has the option of dedicated AMD Radeon 6450M graphics with 1GB of memory, and can be configured with either a 7200rpm drive or solid state drive. With the SSD configuration, the battery can last up to 7 hours. Like the other two series, the Tecra R850 is available now, starting at $879 MSRP.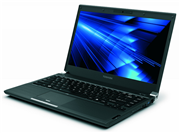 Features for Mobile Users
Whether you're buying one of these business laptops for dedicated business use or just occasional work, the refreshed laptops offer features that are useful for all mobile users. These include Toshiba's EasyGuard technology to protect against accidental spills and bumps, a Trusted Platform Module for high-level data encryption, and durable casing materials (the Tecra laptops are built with fiberglass-enforced casing and the Portege R830's case is of magnesium alloy).