Facebook is a wonder of our age. With more than half a billion users, the fact it serves detailed and personalized pages to every user–within a second or two of them asking for it–is mind-blowing.
To achieve this feat, Facebook operates warehouses full of server computers, known as data centers. One of the biggest questions being asked recently, based on rumors, is whether Facebook has abandoned traditional x86 server computing that's been around since the 1970s for low-power mobile computing chips–the same used in cell phones and tablets.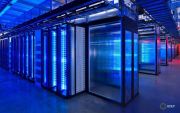 The answer? No, they haven't. Facebook is still x86 on the server.
We know this because Facebook has decided to "open source" the designs for its data centers for any interested party to use. This is a rare move because data center configurations are usually bespoke and therefore offer a way for one company to get a competitive advantage over others.
Reducing power consumption within data centers is a nascent area and Facebook is leading the game in this area. Its various tricks include evaporative cooling systems that use water and air to get rid of heat, rather than traditional air conditioning; reuse of heat generated by the servers to keep neighboring offices cozy during winter; and a special uninterruptible power supply that will keep the data centre running during a power cut in a way that reduces power consumption by up to 12 percent.
Recently there's been a lot of discussion about servers using low-power chips to further the ecological drive. The technology is ready, just about: Sea-Micro has released a couple of servers based on Intel's Atom mobile chips, for example, while Calxeda recently got funding to produce ARM-based servers.
According to the Register Website, which got the answer directly from Jonathan Heiliger, vice president of technical operations, despite the low power credentials of mobile chips, Facebook uses traditional server offerings such from Intel's Xeon or AMD's Opteron range. However, although he wouldn't be drawn on exact details, it appears Heiliger and his team are at least evaluating mobile technology for use in the data center.
Although mobile chips are nowhere near as powerful as even the slowest desktop x86 chips, they're perfectly able to handle the small, choppy transactions typically involved in serving Web pages to end users. If performance is measured against the electrical power required to achieve it, mobile chips win every time.
The biggest block on mobile chips in the data center right now is the quantity of memory they can address. Either by deliberate manufacturing choice, as with Intel's Atom chips, or simply because they're 32-bit, as with ARM's current lineup of designs, most mobile chips struggle to deal with more than 4GB of memory. This is far below what most data center software requires, which typically runs into double gigabyte figures.
Although ARM's latest chip designs feature server-friendly features such as virtualization, ARM CEO Warren East has stated the company is in no rush to introduce 64-bit designs. However, the ARM Cortex-A15 design features 40-bit memory addressing, which allows the chip to access up to 1TB of memory–more than enough for most data centers both now and in the future.
There's little doubt that a company like Facebook embracing ARM chips could trigger a revolution in the approach to data centers, especially if they share their designs and software with the rest of the world, as seems to be their new strategy. No doubt several people at ARM headquarters have their fingers very tightly crossed.