When Verizon launched its own version of the iPhone in February–ending the long exclusive deal that AT&T had struck with Apple to sell the landmark phone–many AT&T iPhone users rejoiced. Finally, iPhone lovers could have their beloved device and connect it to a network with decent data speeds and fewer dropped calls. Some of them left their AT&T plans then and there, and bought a Verizon iPhone. But any AT&T customers still waiting for their contracts to run out might find our recent test results interesting–and instructive.
We have little doubt that the Verizon iPhone connects and holds voice calls better than the AT&T iPhone does, but if you're a heavy data user you might want to reconsider the AT&T iPhone. (For a head-to-head look at the two phones' specs, see the comparison chart we created in January.) We tested the connection speeds of both the AT&T iPhone 4 and the Verizon iPhone 4 in five western cities, and recorded faster data speeds on AT&T's version of the phone.
Verizon iPhone Slower?
In early 2011, we tested the AT&T iPhone 4 in San Francisco, San Jose, Seattle, Portland, and San Diego. In those five West Coast cities, it clocked an average download speed of 1.25 mbps and an average upload speed of 0.92 mbps. When we tested the Verizon iPhone 4 in San Francisco, San Jose, Seattle, Los Angeles, and Las Vegas, we recorded an average download speed of 0.89 mbps and an average upload speed of 0.54 mbps.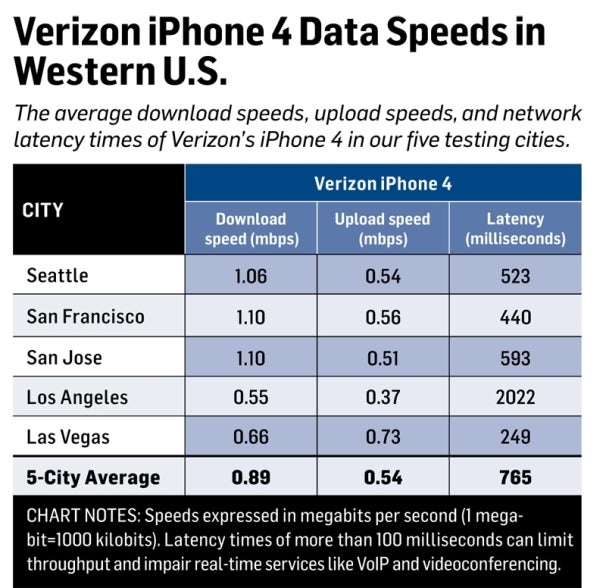 Comparing just the three cities where we tested both the AT&T and Verizon iPhones, AT&T wins again. In our Seattle tests with AT&T's iPhone, we saw a 1.34-mbps average on the downlink and 1.05 mbps on the uplink–nice-looking numbers for a 3G network. In our Verizon iPhone tests two months later, we saw a somewhat slower result in that city: a 1.06-mbps average downstream speed and a 0.54-mbps upstream speed.
The same thing happened in San Francisco and San Jose. While the AT&T iPhone achieved download speeds in the range of 1.4 mbps in both cities and upload speeds of 0.73 mbps (San Francisco) and 0.92 mbps (San Jose), Verizon's iPhone averaged 1.10 mbps downstream in both cities, and upload speeds in the range of 0.5 mbps.
Of the 52 locations we tested, San Francisco's Bernal Heights registered the fastest download speed of all at 2.25 mbps, with a 0.72-mbps upload speed.
In Las Vegas and Los Angeles, the Verizon iPhone reached slower average download speeds, at 0.66 mbps and 0.55 mbps, respectively. Los Angeles saw the slowest average speeds by far, downloading faster than 0.5 mbps in only half of the 12 locations we tested. Similarly, the Verizon iPhone had uploads faster than 0.25 mbps in only half of our Los Angeles testing locations.
Considerable Network Delay
During our tests we also measured the latency times for the Verizon iPhone. Latency refers to the time it takes for a single packet of data to travel through the network. Latency times of less than 100 milliseconds are ideal, while delays of less than 200 milliseconds usually won't cause noticeable impairments to services such as VoIP and video chat.
The Verizon iPhone produced an average latency time of 765 milliseconds across our five testing cities. Las Vegas had the best average latency time of the five cities we tested, at 249 milliseconds; Los Angeles clocked our slowest average latency time, at 2022 milliseconds. Considering that a network delay of more than 200 milliseconds can cause delays in extremely time-sensitive services, that nifty front-facing camera probably won't do you much good if you're in L.A. (unless you're in Santa Monica or Century City, where our test phone saw great latency times of 166 and 187 milliseconds, respectively).
Other Verizon Phones Faster
Our testing also shows that other Verizon phones–Android phones–may connect more effectively and more quickly with the Verizon CDMA network than the Verizon iPhone does. In San Francisco, San Jose, Seattle, Portland, and San Diego, Verizon's Motorola Droid 2 averaged 0.9 mbps for downloads and 0.62 mbps for uploads.
More bad news for Verizon iPhone users: Big Red's CDMA network may be slowing as Verizon focuses on building out its new 4G LTE network. Verizon strongly denies this, but our early 2011 tests with the Droid 2 showed that download speeds on the Verizon 3G network had slowed 7 percent from the year before.
For now, it seems that an iPhone buyer would do well to think about whether voice calling or data capability is more important. If you're already on AT&T and you're thinking about jumping ship to Verizon, remember that while your call quality is likely to improve, data service on your Verizon iPhone might be a bit slower.
In this comparison we've tried to give a general picture of how well the two versions of the iPhone connect to their respective networks. Your own results in your own neighborhood might vary from ours, so it's critical that you find out for yourself how well a Verizon iPhone might work for your needs. Examining our data is a good start, but asking your iPhone-using friends and neighbors may be more predictive.
This whole topic may become irrelevant when the LTE-capable iPhone 5 comes out, possibly this spring. The real question may be whether to buy an iPhone 4 at all right now, regardless of carrier, or to wait until the 4G goodness of the iPhone 5 becomes available.
How We Tested
Our testing method is designed to approximate the experience of a real smartphone user on any given day in their city. We speed-tested the Verizon iPhone 4 in ten to twelve testing locations spaced evenly throughout our five testing cities. At each testing location in each city, we took a "snapshot" of the performance of each wireless service, using an FCC-approved app made by Ookla to test for upload speed, download speed, and network latency. We looked for the fastest signal available in each location, and used that data to draw citywide averages.
Because wireless signal quality depends to a large extent on variables such as network load, distance from the nearest cell tower, weather, and the time of day, our results can't be used to predict exact performance in a specific area. Rather, they illustrate the relative performance of wireless service in a given city on a given day.
Mark Sullivan and Armando Rodriguez of PCWorld contributed to this report.