At a Glance
Expert's Rating
Pros
Discrete graphics card
Lightweight, with great battery life
Cons
Display has poor viewing angles and too much glare
Mediocre keyboard and touchpad
Our Verdict
The U31Jg is ideal for getting work done on the road, but movie and music buffs should look elsewhere.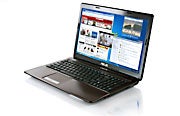 The Asus U31JG, designed for urban professionals on the move, boasts a stylish brushed-aluminum finish that coats the lid and wraps around the black plastic keyboard. It's not just a fashion statement either: The aluminum trim reinforces the plastic chassis, creating a sturdy ultraportable laptop that packs enough power to play games and run your presentations while remaining light enough for you to carry on your daily commute.
The compact 4.2-pound case (5.3 pounds with the power adapter) contains an Intel Core i3-380M CPU running at 2.53GHz, 4GB of DDR3 RAM, and a 500GB hard drive. Upgrade options are available for both the CPU and the memory, though anyone willing to shell out more than the $800 retail price (as of April 12, 2011) of the Asus U31JG for improved performance should probably consider upgrading to a more expensive ultraportable such as the Lenovo ThinkPad X220.
The U31JG's glossy black plastic keyboard is recessed within the aluminum case. Though it has no backlighting, the Chiclet-style keyboard is spacious enough to type on comfortably for hours. The keys felt sturdy under my fingers. Unfortunately, while the black plastic certainly looks sexy when you open the box, it causes the accumulated dirt and dust of daily use to stand out like scratches on a black Mercedes. Each plastic key is lightweight and shallow, too, so the feedback from touch typing isn't terribly satisfying. That said, the multitouch one-button touchpad recessed into the U31JG's brushed-aluminum palm rest works well under pressure, though my oversize fingers found it a little too cramped for comfort.
When it comes to performance the U31JG is no slouch, earning a respectable score of 109 in our comprehensive WorldBench 6 benchmark tests and competing favorably with many of the laptops ranked among our Top 10 ultraportables. Such results are due in part to the included Nvidia GeForce GT 415M discrete graphics card, which permits the U31JG to handle graphically challenging applications. As for gaming, though, our tests found mediocre performance for the category. The U31JG hit nearly 50 frames per second while running perennial classic Unreal Tournament 3 in 1024 by 768 resolution at the highest settings–but on more-modern games such as Far Cry 2, it performed poorly, topping out at 15 fps on high graphic settings at 1024 by 768 resolution. Such numbers are better than those we've seen from systems using integrated graphics, but the U31JG still isn't fast enough to serve as a modern gaming PC.
Of course, with no optical drive you'll be limited to whatever games and movies you can slip in via USB or download online. Watching HD videos from streaming services such as Hulu is certainly possible, but the distractingly glossy black screen and 1366 by 768 resolution make the U36JG an entertainment option of last resort. Even though the Altec Lansing speakers built into the front of the chassis do an adequate job of hitting the high notes, the volume tops out at tinny and the bass is nonexistent, even in quiet listening environments. As you might expect, a good pair of headphones will be your best friend while you're carrying this laptop.
You'll find the trusty headphone jack on the left side of the chassis, along with an audio input, a USB 2.0 port, and the AC power jack. Occupying the right side of the laptop are a pair of USB 2.0 ports, two HDMI and Mini DisplayPort outputs, an SD/MultiMediaCard/Memory Stick card reader, and a gigabit ethernet jack. Going wireless is easy with the integrated 802.11n Wi-Fi adapter and Bluetooth radio; the latter allows you to carry along a Bluetooth headset and take advantage of the bundled Skype software to video-chat using the 0.3-megapixel Webcam perched atop the screen.
In addition to Skype the U31JG comes bundled with a smattering of Asus utility software, including a free trial for Asus WebStorage and a few silly games. You can safely ignore the lion's share of this bloatware, but Asus deserves credit for its Super Hybrid Drive, a hyperbolic term for an otherwise excellent suite of power-management settings that makes it easy to eke out every possible joule of juice from the eight-cell lithium ion battery. During our lab testing, by dialing the power settings down to 'Battery Saving' mode, we were able to keep the U31JG running on battery power for about 7.5 hours, which is better than average for an ultraportable laptop.
Asus has a reputation for building reliable laptops, and the durable U31JG is no exception. It outperforms and outlasts many comparably priced ultraportable laptops, including Asus's own U33Jc. The U31JG isn't optimal for multimedia use, but if you're looking for a business laptop that lasts all day and is easy on the eyes (and shoulders), the U31JG is a solid choice. Just be sure to pack a mouse and a great pair of headphones, too.