T-Mobile is using the fine print in its new data plan to experiment with the English language. In the plans, unveiled today, T-Mobile uses the word "unlimited" but then adds that it will throttle user connections after 2GB. Technically the data is still unlimited; it's just the functionality that's crippled.
[Related: Many Unlimited Tech Services Appear to Have Limits]
The Even More plan with the "unlimited" data is $79.99 with a two-year contract or $59.99 for Even More Plus subscribers. The plan includes unlimited nationwide calling, texting, 3G data (4G access costs more), and boasts no overage charges. However, T-Mobile doesn't hide the caveat: "after 2 GB, data speeds will be reduced for the remainder of that billing cycle."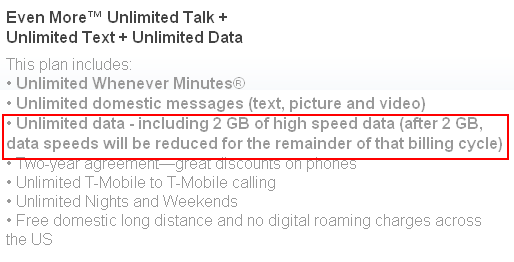 In a press release, T-Mobile was careful to add that, on average, its 4G smartphone customers "consume about 1GB of data per billing month." When AT&T killed its unlimited data plans last year, the company claimed that 98 percent of its smartphone customers use on average less than 2GB of data per month.
Despite the limited nature of T-Mobile's new "unlimited" plan, it's still superior in many ways to offerings from other companies. For instance, Sprint's restrictions, hidden in tiny text, are ludicrous. Sprint reserves the right to throttle or terminate people using its unlimited plans if they exceed 800 minutes of talk time per month or 300MB of data usage.