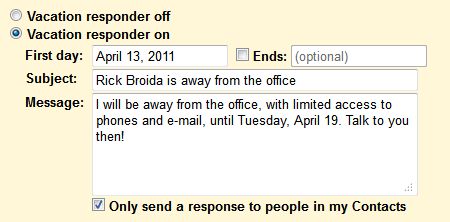 Taking a vacation? Planning to be away from your computer for more than a day or two? If you're a Gmail user, there's an easy way to make sure that friends, family members, co-workers, and others get an answer to their e-mails–even when you're traveling.
It's called a "vacation responder," and it sends an automated reply to anyone who e-mails you during a designated time.
It takes all of 60 seconds to set up, and it can even terminate automatically upon your return. It's so easy, in fact, that Google's own tutorial video lasts just 45 seconds. Take a look:
If you're an Outlook user, here's a handy how-to video on setting up e-mail auto-responders in Outlook.