At a Glance
Expert's Rating
Pros
Excellent messaging features
Superb keyboard
Cons
Design is a bit on the heavy and chunky side
Camera is just average
Our Verdict
The Sidekick might not have the specs to compete with some of the high-end super smartphones out there, but it is excellent for social networkers or first-time smartphone owners.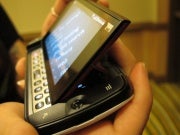 It's baaack. The T-Mobile Sidekick has returned ($80 with a two-year contract from T-Mobile; available April 20, 2011), and this time it has 4G speeds. As a former Sidekick LX user (and honestly, I kind of miss good physical keyboards), I was excited to check out Samsung's spin on this legendary phone. Did Samsung succeed in reviving the Sidekick brand? For the most part, I think it did. Everything we know and love about the Sidekick is still there, but I wish Samsung had baked in enhancements in a few areas other than just design and data speeds.
Designed for Messaging
Most important thing first: The Sidekick wouldn't be a Sidekick without an excellent physical keyboard. Thankfully, the Sidekick 4G's keyboard is pretty good. The keys are raised, have a satisfying click to them, and feel nice against your fingers. On the downside, the keys are a bit undersized and a little too spaced out for my small hands. I was able to bang out a long message pretty quickly with few errors, but I also felt as if my fingers were stretching a bit to reach the keys. My colleague with larger hands disagreed, however, and said that he liked the keyboard.
The touch display slides out easily and feels sturdy. The phone itself feels a bit plasticky–but so did the older Sidekicks. It is pretty chunky, too, measuring 5.00 by 2.42 by 0.60 inches and weighing 5.7 ounces.
The Sidekick 4G is aimed at the younger set, and the fun, colorful design definitely reflects that. The unit we received has a white battery cover with black around the edges of the display and keyboard. A surprise pop of magenta behind the display, exposed only when you slide out the keyboard, gives the phone a playful look. The more serious-looking version is all black with a gray panel behind the display.
The 3.5-inch, WVGA, 800-by-480-pixel display was pretty responsive and showcased the user interface nicely. It isn't the most high-res display, but video and pictures looked sharp and animations moved smoothly.
In addition to the keyboard and the touch display, the phone sports a handful of hardware keys and an optical mouse. The Sidekick shakes up the standard Android hardware keys by adding a Jump Key rather than a Search key (in addition to Home, Back, and Menu, of course). If you remember the older Sidekicks, you might recall the Jump Key, which takes you to a list of your favorite programs; you can customize the list to taste (see "New Sidekick OS" below).
It took me just a second to get a grip on where these various hardware buttons are located: The Home button is in the upper-left corner and the Jump key sits below it, while Menu and Back are on the right side in the upper and lower corners, respectively.
I had a hard time getting the hang of the optical mouse, however. Its surface area isn't large enough to use comfortably as the main method of navigation, and its response time seemed a bit slow.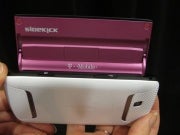 On the left edge of the phone, you'll find the volume rocker, the 3.5mm headphone jack, and the power button. On the right are the camera shutter key and the Micro-USB port. Unfortunately, the MicroSD slot is located just below the battery, so you'll have to remove it to get to the slot.
New Sidekick OS
The Sidekick runs Android 2.2 with an updated version of the old Sidekick OS. Aesthetically, it isn't the prettiest operating system–and if you have bad eyesight, you might have trouble reading some of the typography (I guess the designers assumed that young people have perfect eyes).
Samsung included some nice customization features in the OS. For example, you can pick from a couple of different themes for the home screen and menus. You can also customize the LED notification light. Under Settings, you can assign a different color to flash when you receive a new text or e-mail, or when you miss a call.
You can customize both the Lock screen and the Jump key with shortcuts, so you can quickly access whatever apps and programs you need. All of this is easily done via the settings menu.
Messaging and Social Networking
The Sidekick 4G comes loaded with two messaging features, Group Text and Cloud Text. Group Text lets you create, name, manage, and participate in reply-all group text messages. Cloud Text allows you to message your friends or groups from multiple platforms–including PCs. Unfortunately we couldn't test Cloud Text, as it won't be live until the Sidekick is commercially available (April 20).
Group Text was pretty easy to set up, however. You can create groups of your contacts and allow them to reply-all within the group regardless of what carrier they are on. This function came in handy when I was trying to organize who was bringing what for a dinner party. I can think of a million other uses for Group Text.
The Sidekick has a handy Universal Composer app for those times when you want to update multiple social networks at once. This idea isn't exactly cutting-edge (we've seen it on most Android devices), but we always find it useful. You can also update your statuses using Google Voice Actions with the app.
Multimedia
The Sidekick comes loaded with T-Mobile's Media Room, as well as Samsung's Media Hub. Media Room is an all-in-one media app that incorporates content from Amazon, Slacker Radio, T-Mobile TV, and YouTube. It is a pretty nifty app, as it lets you search across multiple platforms for the content you want. For example, a search for the band Lightning Bolt showed artist results from Slacker, YouTube videos, and links to downloads via Amazon MP3.
Oddly, Media Room does not seem to incorporate Media Hub's content. If you want to search for full-length movies, you'll have to use the separate Media Hub app.
Mediocre Camera
I wasn't exactly wowed by the Sidekick's camera on paper: A 3-megapixel camera with no flash? It sounds like a spec from one of the old Sidekicks. And I was mostly right: In my tests the 3-megapixel camera took decent outdoor shots, but they were nothing spectacular. My indoor pictures had a dark cast on them, and looked a bit on the fuzzy side. The camera interface offers nothing special, either; it has the same interface you'll find in stock Android 2.2.
You can use the dedicated camera shutter button to help focus on an object or person. Rather than pushing it all the way down as you would to take a picture, you push it halfway to focus.
Considering how bare-bones the back-facing camera is, it was kind of surprising to see that the Sidekick also has a front-facing camera for video chatting. I was able to get it up and running, and I used the Qik app to easily connect to a T-Mobile MyTouch 4G also running Qik.
Performance
The Sidekick 4G supports T-Mobile's new HSPA 21 network technology, meaning that the handset is capable of reaching the 21 mbps of (theoretical) throughput speed that the T-Mobile network is built to deliver. This does not mean that the Sidekick 4G can actually hit 21-mbps download speeds, but rather that it contains a radio and chipset capable of faster speeds than earlier T-Mobile 4G phones achieved. We tested T-Mobile's 4G network using the Samsung Galaxy S 4G in a few cities, including San Francisco, and were pleased with the solid 4G-like speeds. The Galaxy S 4G averaged 3.38 megabits per second for downloads and 1.13 mbps for uploads. It couldn't hold a candle to the blazing speeds we saw on Verizon's LTE network (18.30 mbps and 7.39 mbps), but it did outperform both AT&T's HSPA+ network and Sprint's WiMax network.
So I have to give T-Mobile the benefit of the doubt when I report the rather dismal speeds I achieved with the Sidekick 4G. The South Park neighborhood in San Francisco, where PCWorld is located, has never been a strong area for T-Mobile. In that area, according to the FCC-approved Ookla Speedtest app, the Sidekick 4G averaged 0.91 mbps download speeds and 1.26 mbps upload speeds.
The Sidekick is powered by the same 1GHz Hummingbird processor you'll find in Samsung's Galaxy line of phones, including the Vibrant and Galaxy 4G, also on T-Mobile. The browser handled scrolling and loading pages fluidly, and native video played back smoothly.
As for call quality, the Sidekick sounded pretty good. Callers sounded loud and clear over T-Mobile's network, with no static or hiss. Like many T-Mobile phones, the Sidekick can also make calls over Wi-Fi, which is useful when reception is poor.
Bottom Line
The T-Mobile Sidekick won't appeal to everybody: It's certainly no dual-core, large-screen, enterprise-heavy superphone. But then again, that's not really what the Sidekick brand is all about. It's not really meant to be used in the boardroom. The Sidekick was designed for social networkers, first-time smartphone owners, and people who really appreciate a good QWERTY keyboard. I think the Sidekick succeeds at what it sets out to do and more. For $100, you get a 4G phone with some fantastic messaging capabilities and a fun but useful design.