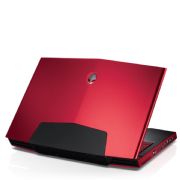 Gaming enthusiasts got a brief glimpse Wednesday of the upcoming Dell Alienware M18x, a high-end gaming laptop with a massive 18.4-inch display. This unusually large laptop was just a rumor for a while and then it popped up shortly on Dell's Canadian site only to be quickly removed. The Internet never forgets, however, so Alienware M18x specs are now widely circulating.
Ubergizmo and other sources report that the M18x (whose photos look exactly like the M17x) will start at $2,088 ($2,000 CAD) and boast a 3D-capable 18.4-inch HD display with 1920×1080 resolution, as well as an Intel Core-i7 processor that can be overclocked to 4GHz. The default Nvidia GeForce GTX 460M graphics card can be upgraded to an incredible dual AMD Radeon HD 6970M. Memory capacity is also pretty huge — the laptop will start with 4GB DDR3 RAM, upgradeable to 32GB – and the 320GB hard drive will also be upgradeable to 750GB.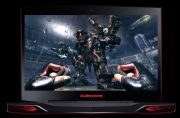 Even larger than the original and monstrous Dell Alienware M17x, the M18x will no doubt feel substantial in your laptop bag.
If you're looking for a more portable gaming rig, consider waiting for the M11x R3 refresh, whose specs were recently leaked or the M14x, which also made a brief Dell Canadian site appearance.
The M18x is expected to start shipping in May, so stay tuned for this gaming beast to officially – and more permanently — pop up on Dell's Alienware site soon.