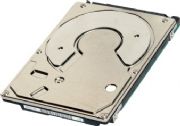 Toshiba joins the self-encrypting hard drive march forward with its new Toshiba Self-Encrypting Drives series (models MKxx61GSYG). These SED drives won't quite self-destruct like in "Mission: Impossible," but when one of these intelligent hard disk drives (HDD) is connected to an unknown host, it can erase itself, or a variety of other protective functions.
The 2.5-inch, 7,200 rpm SEDs have been built for PC, copier and multifunction printers, and also point-of-sale systems used in government, financial, medical, or similar high-profile institutions and organizations. The drives range in capacity from 160GB to 640GB, and have 16MB of buffer memory. Pricing details on the five different models were unavailable at launch.
The Toshiba SED has a bunch of data-securing tricks up its sleeve. When powered on, the host and the Toshiba SED start an authentication process. From there, it can simply restrict access, wipe the entire drive, or wipe only certain blocks of information on the drive. Aside from eliminating data, the Toshiba SED can also do a cryptographic erase, which deletes the keys that allow a system to decrypt data; this approach renders the data unreadable, unless you can reinstate the original keys. All of these powerhouse methods can be jumpstarted by command, on power cycle, or on host authentication error — which Toshiba says is an industry first.
This kind of high-caliber security ought to give bumbling agencies with the habit of losing government-issued PCs a breather. With Toshiba SEDs, they can waste with impunity.