Q: My D-Link router has a USB port. What gives?
A: Congrats! You may be the proud owner of a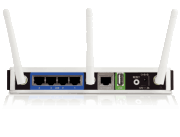 D-Link DIR-655 Xtreme N Gigabit Router, one of several D-Link products that includes a bonus USB port on the rear of the device.
You probably know how handy an extra USB port can be on, say, a laptop or your car's CD player. But you might not know how to use same feature on your home networking gear. News flash: A USB port built into a networking product allows you to share the USB connection with anyone who has access to your network, and this can be useful with a variety of devices.
What constitutes other devices, exactly? Well, USB storage presents the best-in-class scenario for sharing one connection with many users. From flash keys to portable hard drives, a USB-connected storage product can be used alongside D-Link's SharePort utility to give any network-connected user access to my drive's contents. Think of it as the "lite" version of network-attached storage (NAS): Unlike a conventional NAS box, only one user can connect to a router-based USB device at a time.
SharePort also allows (trusted) friends on my network to fire off files to a printer connected to my router via USB. The beauty of SharePort is that it knows when a print job is finished and automatically disconnects users from the USB-attached printer. It's a clever way to skirt the one-connection-at-a-time situation, and it ensures that my girlfriend doesn't kill me for hogging the printer.
And that's not all. SharePort can handle webcams, audio devices, scanners, and USB mice and keyboards. In effect, it turns any supported USB device into a networked device. It knocks down the walls and gives you access to USB devices that aren't sitting on your desk … or desktop PC.