Google offshoot AdMob has been busy looking into what people use tablets for. It questioned around 1500 people, with the majority likely to be iPad users, bearing in mind Apple's current dominant position. The results make interesting reading and challenge popular assumptions.
Here are five common statements made about tablet computers that the survey calls into question.
1. Tablets Are for Use On the Go
Tablets might be portable and, yes, you might see hipsters at Starbucks armed with them. But the AdMob survey indicates that 82 percent of people use tablets primarily in the home. Just 11 percent use them when they're "on the go," to quote the survey question.
A better name for a tablet might be a "lounge computer," because that's the context where they make most sense–quickly checking e-mail before your favorite program comes on TV, or reading the news while gulping down breakfast cereal.
Tablets extend traditional computing into the areas of our lives that desktop or laptop computers couldn't reach.
2. Tablets Are Mostly Used for Multimedia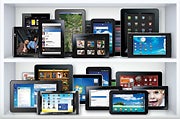 Market research firm IDC refers to "media tablets" when discussing the iPad and its brethren. But, as researcher Horace Dediu points out, the AdMob survey indicates that only half of tablet purchasers use them for "consuming entertainment (music, videos)."
Bearing in mind that tablets are mostly used in the home, it would make little sense to watch a movie on a small tablet when a large TV is ready and waiting a few feets away. I suspect most of the 51 percent of people using tablets to watch movies and multimedia are consuming YouTube snippets or short news reports on their tablets, rather than full-length feature films.
3. Tablets Are Used for Web Browsing
This might be true, but the type of Web browsing on a tablet is different from that of a desktop PC. Seventy-eight percent of respondents to the AdMob survey said they use their tablets for "searching for information." This isn't hard to understand; in my experience, tablets are very commonly used when there's a desire to scratch an information itch. Is Sheldon's girlfriend in "The Big Bang Theory" the actress from "Blossom?" Grab the iPad and do a quick search.
Additionally, 61 percent consider their tablet to be a newspaper replacement, using their tablets for "reading the news." Maybe Rupert Murdoch is right.
4. Gaming Doesn't Work on a Tablet
Tablet owners clearly disagree that gaming sucks on a tablet. Eighty-four percent of respondents to AdMob's survey said they used their tablet to play games. That's pretty amazing, considering the iPad dominates the market right now and doesn't even have a Flash plug-in. In other words, the 84 percent aren't even playing Flash games on sites like Facebook. If they're playing games then these are almost certainly ones they've purchased from the app store. And this means the killer app on a tablet is clearly Angry Birds, if the App Store top seller charts are anything to go by.
In summary, not only is the tablet a genuine gaming platform, but it's also commercially sound. Who'd thought it?
5. Tablets Are Killing the PC
It's true that the PC market is in decline and has been for some time. Additionally, this fall is very likely being caused by people buying tablet computers. But people are buying tablet computers for PC-like tasks. Seventy-seven percent of respondents to the AdMob survey indicated their desktop and laptop usage has decreased since they got a tablet computer. Only 23 percent categorically stated it had not.
Whether you want to say the tablet is killing the PC, is replacing it, or is a PC in a different format is up to you. I think it's perfectly valid to say that the tablet is the new PC.