How much money would you be willing to pay for a 128GB thumb drive or a 512GB solid-state hard disk? What about paying half the amount that you would have to spend today? Intel and Micron Technology say the scenario should become a reality next year.
Thanks to improvements to its production technology, IM Flash Technologies, a joint venture between Intel and Micron, has begun to make 8GB NAND devices using a 20 nanometer (nm) production process. The joint venture should begin to produce samples of 16GB NAND devices later this year.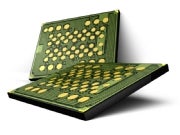 After production of the 16GB devices begins, memory prices should be twice as cheap next year, thanks to the extra density the devices will have, Micron representatives said. For example, you should be able to buy a 128GB thumb drive sometime next year for the same price that you would pay for a 64GB USB 2.0 thumb drive today.
It should also be possible to buy a 256GB thumb drive in retail channels next year, but as a Micron representative said, "It will command a hefty price," like 128GB drives do today.
In the PC drive space, you should be able to purchase a 1TB solid-state hard disk sometime in 2012 for the same price that a 512GB model commands now.
For tablets, which consume a large percentage of the world's NAND supply, it is difficult to say how plummeting memory prices will affect the total cost of these devices, but I would expect to see tablets with 128GB of memory to be in the pipeline.
Besides offering larger memory capacities, the NAND devices will shrink in size. The 8 GB NAND devices will be up to 40 percent smaller compared with existing 8GB devices produced with a 25 nm process. The extra real estate means more room for larger-sized batteries, screens, or more chips for extra computing horsepower, Intel and Micron said.
Times certainly have changed. It wasn't that long ago when a 1GB thumb drive commanded a premium price and solid-state drives were in the prototype stage. Going further back in time, a Micron representative said the per-gigabyte price of NAND memory devices was about $1000 in the mid 1990s while prices have plummeted to about $1 per gigabyte today. Suppliers have been able to shrink the memory chip and the circuitry designs over the years, thanks largely to advances in lithography similar to what AMD and Intel have done with CPUs.
Extra memory capacity at an affordable price can obviously be put to good use at a small business or home office. Besides being able to buy tablets and smartphones with much more memory, think how nice it will be to be able to copy a large chunk of your PC hard drive's data onto a thumb drive. You can then carry the data with you in your pocket to take on trips or just for an easy file transfer from one machine to another. (Hopefully the drive will be encrypted, of course.) Workstations with 1TB solid-state drives at affordable prices will not be so bad to have, either.
Bruce covers tech trends in the United States and Europe. He can be reached through his Website at www.brucegain.com.