Toshiba has introduced a series of self-encrypting hard drives that come with what the company says is a unique self-diagnostic feature that blocks access to data if the drive doesn't recognize the host, in case it is lost or stolen.
But whether the devices will make sense for small businesses will depend largely on pricing for the MKxx61GSYG series, which Toshiba has not yet disclosed.
First, here is some information about the technology. The 2.5-inch, 7,200 RPM Serial ATA (SATA) drives benefit from Advanced Encryption Standard-256 hardware encryption for a first-layer of data protection.
Additionally, the five drives in the series, which offer 60GB to 640GB of capacity each, benefit from a feature that deletes the keys required to decrypt data when a drive is removed or is connected to an unrecognized host. The process is thus intended to prevent data thieves from accessing data on a drive that has been lost or stolen and then installed on another system.
Toshiba says PCs, multifunction printers, point-of-sale systems, kiosks, and thin clients can benefit from the extra security that its new disk series offers. But since the security concerns of point-of sale systems and kiosks– which often store customer data–are often more crucial than those of PCs and thin clients, I suspect that the drives will retail for a premium price by catering to more high-powered security needs.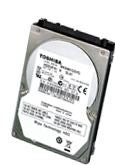 You can never secure your workstations and PCs enough, of course. But the average small office is not going to spend the same amount of money for data protection that a major bank, insurance firm, or other organization that handles ultra-sensitive data does. These are the kinds of firms, of course, that have major regulatory-compliance issues to worry about and are willing to invest in new and expensive security technologies. I also suspect that Toshiba's new drive series will fall under the expensive category and will cater to firms with more stringent security concerns than small offices.
As a more affordable alternative, it is possible to use free software solutions to encrypt your data, such as TrueCrypt, which can encrypt a PC disk or just specified volumes. There are also other commercial software encryption tools available, as well.
Still, it will be interesting to see how much Toshiba will charge for its MKxx61GSYG disks when they become available later this year. While they will likely be very expensive, Toshiba could still price them so that they could become within reach of small businesses that need that extra data protection.
Bruce covers tech trends in the United States and Europe and can be reached through his Website at www.brucegain.com.