Now anyone can try Office 365, Microsoft's cloud productivity package for businesses. The service opened Sunday night for beta testing, coming a step closer to its final launch, which will occur sometime later this year.
Office 365 is built to entice small and large companies that want to stop handling many IT chores in-house and instead entrust the heavy lifting to Microsoft's servers. This bundle of always-on online services ties in to Office software and is meant to enable access to work, contacts, and calendars from your desktop and mobile devices, including Windows Phone 7, Android, iOS, and BlackBerry smartphones.
In addition to letting you collaborate live on documents simultaneously with other users, Office 365 offers shared storage space online, and tools for managing sites and intranet pages.
Much of Office 365 will embrace components of the Microsoft Business Productivity Online Standard Suite (BPOS), which includes Exchange, SharePoint, Office Communications Online, and Office Live Meeting.
For images of how Office 365 works, check out our slideshows of its productivity tools and IT admin controls. To try it yourself, visit office365.microsoft.com.
In case you're confused, Office 365 is not a collection of online counterparts to Word, Excel, and PowerPoint. Microsoft released just such a collection last June as Office Web Apps, to accompany the new desktop Office 2010. Office Web Apps are a part of Office 365, however, and both integrate with Office software on your PC. Microsoft says that its cloud tools will work with Internet Explorer, Firefox, Chrome, and Safari on the Mac.
For companies that want to reduce the time and money they spend on in-house IT, Office 365 looks like a good deal.
What's in Microsoft Office 365
Office Professional Plus
This $499 software package is available instead for additional monthly fees with Office 365. It includes the desktop Word, Excel, PowerPoint, Outlook with Business Contact Manager, OneNote, Publisher, Access, InfoPath, SharePoint Workspace, and Lync.
Office Web Apps
These online editions of Word, Excel, PowerPoint, and OneNote are designed to work seamlessly with the desktop Office.
Microsoft Exchange Online
This service provides mobile access to e-mail, calendar, and contacts.
SharePoint Online
SharePoint Online lets users manage a Website and a private intranet, as well as share team documents.You also can publish Access databases to SharePoint Online, which includes Secure Socket Layer (SSL) protection in the Enterprise version of Office 365.
Lync Online
Microsoft Lync, formerly known as Communications Server, is a unified communications tool supporting instant messaging, plus audio and video VoIP calls for online meetings. Options for meetings include whiteboarding and desktop sharing.
Service and Support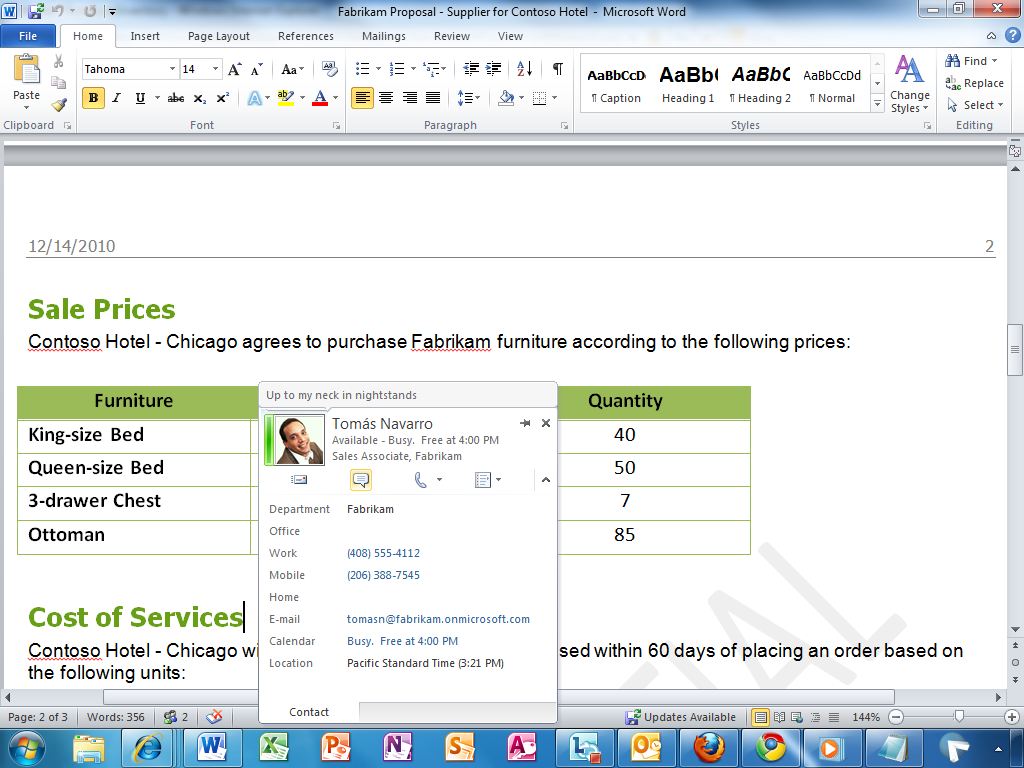 Microsoft says that it guarantees 99.9 percent uptime. Community support is available 24/7 for users of the Small Business version of the package; users of the Enterprise version can get assistance by telephone at any time. There's no penalty for early cancellation.
Pricing
Office 365 comes in two flavors. Small Business Office 365 is designed for up to 25 employees but will accept 50 maximum; its target market is companies with little or no IT staff. For Enterprise Office 365, you can sign up as many users as you like.
The Small Business service costs $6 per month per person. Microsoft charges another $12 per user for the desktop Office Professional Plus. By contrast, that software package alone would cost $499, unless you obtained special pricing via Microsoft's volume licensing options for organizations.
For bigger organizations, Office 365 Enterprise offers Active Directory, around-the-clock phone support for IT admins, advanced controls, and an annual contract. (Very small businesses that need such offerings are free to opt for the Enterprise version.) Enterprise users who are existing customers of Business Productivity Online Suite (BPOS) will pay $10 per month per person without Office desktop software. Add Office Professional Plus, and you'll pay a total of $24 per user. This package includes Exchange Online, SharePoint Online, and Lync.
Another option addresses big businesses that don't give each worker a PC. So-called "kiosk workers" can get POP3 e-mail with a 500MB storage limit, along with Office Web Apps, and they can access company data via SharePoint–all for $2 per month.
Microsoft has yet to announce Office 365 pricing for educators. Its package for schools includes anywhere access to e-mail, documents, and calendars; 25B mailboxes; Office Web Apps for light editing; and integration with Outlook, Word, Excel, PowerPoint, and OneNote. It also includes MicrosoftLive@Edu and the option of 25GB of storage on Windows Live SkyDrive. Yet another set of tools will be available for educators at kindergarten through high school levels.
What's Next
More than 100,000 people have signed up to request access to Office 365. Several thousand businesses have been testing its rough draft since late last year. Microsoft is mum on precisely when it will take the final wraps off Office 365 this year. Once that happens, though, you'll be able to try Office 365 at no charge for 30 days.
More than 3 million businesses already use Google Apps, Office 365's arch-rival. Who's ahead? Redmond vaguely says that there are "millions" of users of its BPOS, which will fold into Office 365. Though Office 365 is still a rough draft, Microsoft can already claim 750 million desktop users of Office applications and 30 million users of Office Web Apps worldwide.
Microsoft may yet retain an advantage in the productivity and communications space–especially for business customers who already use Office products and infrastructure but have been slow to adopt cloud services of any kind.