A pair of remote controlled robots entered a reactor building at the stricken Fukushima Daiichi nuclear power plant on Sunday morning for the first time.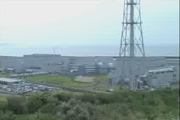 Plant operator Tokyo Electric Power is hoping the iRobot Packbots will be able to provide data on the current condition inside the buildings, parts of which contain high levels of radioactivity and are hazardous for workers to enter.
The robots entered the plant's number 3 reactor building and were due to take radiation and temperature readings. They are equipped with video cameras that can provide a live feed to operators.
Photos released by Tokyo Electric Power (TEPCO) showed one of the robots manipulating a handle on the second of a pair of double doors that lead into the reactor building. (To see pictures from the robots and other high-tech machines in use at Fukushima Daiichi, see this YouTube video.)
TEPCO has yet to release any information about what the robots found inside the building. If the mission proves a success, the robots will also be used inside the adjacent reactor buildings 1 and 2 at the plant.
The plant owner has been wrestling to bring the Fukushima Daiichi nuclear plant under control for just over a month since a tsunami, estimated at 14 meters high, slammed into the facility and damaging its cooling system. Subsequent explosions have damaged three of the reactor buildings and spread radioactive contamination into the surrounding environment.
Workers initially braved high levels of radiation to prevent an even larger disaster, but their time on-site was strictly limited by the radiation. TEPCO has begun employing remote controlled robots and machinery because they face no such restrictions.
A remote control excavator and transporter are being used to clear debris around the plant and an unmanned helicopter is being employed to shoot video of the outside and upper areas of the reactor buildings. The robots that entered on Sunday will give plant operators their first look at the interior of the reactor building's lower levels.
The iRobot Packbots are designed for use in hazardous environments. More than 3000 of the robots have been supplied to military and civilian customers, which use them in applications such as bomb defusing.
Martyn Williams covers Japan and general technology breaking news for The IDG News Service. Follow Martyn on Twitter at @martyn_williams. Martyn's e-mail address is martyn_williams@idg.com