Google Video has been circling the drain for way too long. Good thing Google is finally pulling the plug.
On April 29, Google Video — the service, not the search engine of the same name — will shut down, and all existing videos will be deleted. A new download button allows users to grab their files, and Google is encouraging users to put their videos on YouTube instead.
Google Video's future has been in doubt since 2006, when Google acquired YouTube. In 2009, Google Video stopped accepting new uploads, and service has been in a vegetative state ever since.
Michael Cohen, Google Video's product manager, wrote in 2009 that Google was halting uploads to focus on video search, which was always the service's greatest strength. But even after after uploads froze on the Google Video service, they continued to poison Google video search.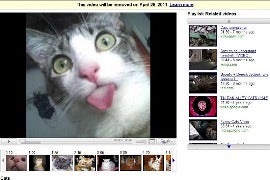 If you've ever tried to search for video on Google and come up with results from video.google.com, you'll know what I'm talking about. The interface lacks the time and attention bestowed upon YouTube. There are no options for streaming quality, captions, likes or dislikes, view counts, playlists, or "video responses." When searching for videos, stumbling upon a Google Video instead of a result from YouTube is always a let down. Google Videos have become harder to find over time, but they still show up in search results on occasion.
On April 29, those videos will finally disappear, and Google video search can finally move on, unencumbered by its past. It's about time.
Follow Jared on Facebook and Twitter as well as Today @ PCWorld for even more tech news and commentary.