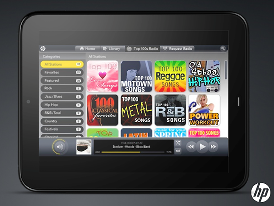 A series of leaked slides over at PreCentral suggest Hewlett-Packard is preparing an ambitious cloud music service for the upcoming TouchPad tablet.
If this service comes to fruition when the TouchPad lands in the hands of consumers in June, then HP would beat Apple and Google, who are also reportedly working on similar services.
According to the slides, which allegedly come straight from the horse's mouth and are marked as confidential, HP's cloud music service would store your media on remote servers and keep in sync on your device via a "smart algorithm," which would ensure your favorite tracks are always on the device.
PreCentral also says the HP cloud music service would allow you to stream music that you don't own yet, and users would be able to stream music to HP smartphones as well, but it is unknown how this would actually work. The technology behind HP's cloud music service is said to come from Melodeo, which was bought by HP last year, shortly after it bought Palm.
If HP manages to ready the cloud music service by the time, it would beat Apple and Google to the game. Both are also said to be preparing similar services. Amazon was the first major player to introduce a cloud music service with the release in March of its Amazon Cloud Player, which allows users to upload and access digital music collections from anywhere.
The HP TouchPad is due to arrive in June, with a 9.7-inch 1024 by 768 pixel display, 16GB or 32GB of storage, and a 1.3 megapixel Webcam. HP is yet to announce exact pricing for the TouchPad, but it is expected to match the iPad 2 at $499.