If you don't already use mind maps regularly, you should probably start. And if you are using mind maps as part of your daily productivity routine, chances are you've come to recognize that they're good for a whole lot more than just raw brainstorming. Here are five great uses for mind maps that go well beyond simple idea generation.
Note Taking
I take a lot of notes, and I'm constantly looking for ways to improve the balance between capturing as much useful information as possible and keeping that information structured in a way that I can actually understand later. Simple outline formats and quick notations can help, but it's almost always challenging to capture the real context and meaning of everything said in an in-depth presentation or high-energy group session.
Mind maps can be a great way to take more organized notes in real time, because they're inherently structured and endlessly expansive. It's generally possible to use this approach on paper (I still viscerally prefer paper-and-pencil mind mapping to software tools for raw capture), but software apps give you enough flexibility that you quite literally cannot run out of space to keep adding new information as it appears.
Presentations
I get that PowerPoint is pretty much the global standard in presentation tools, but I question whether it's really the best way to deliver information. For all its improvements in terms of media support, I find its linear approach too restrictive to present complex ideas in a way that actually matches the way I think about them. (Do you actually think in bullet points? I don't. I think in terms of connections.)
The next time you're working on a presentation, consider drafting it up in a mind map and see if the flow of information isn't cleaner and clearer than it would be in a blocky slide-and-bullets format.
Running Meetings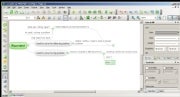 If you run a lot of meetings, you probably put a Herculean amount of effort into keeping the group on track and extracting as much action-worthy information out of the session as possible. One way to simplify this process is to use a single mind-map for both the planning and note-taking processes.
By drafting a simple skeleton of a the major topics you'd like to cover, in advance of the meeting, you can give your team a clear picture of where you'd like the discussion to go, and intuitively prepare them to contribute on the essential topics. As the meeting rolls along, you can add new thoughts, contributed ideas, and next-action steps in real time. This visual approach can give the whole team a stronger sense of purpose and direction throughout the meeting, and cut down morale problems due to meeting fatigue.
Org Charts and Flow Charts
Mind maps are little more than boxes or bubbles connected by lines. So are org charts and flow charts. So if you need to work up a chart in a jiffy, consider using your mind map app. Some mind mapping apps include templates designed specifically for these formalized charts.
Event Planning
Whether you're planning an industry conference or a birthday party for the boss, mind maps are perfectly suited to capturing all the minutiae in an ordered way. You can use separate bubbles to represent the layout of a conference across multiple meeting rooms, or as simple markers of who's bringing what to the party. The flexibility of the format is unbelievably powerful.
All this week, I'll be talking about mind maps. I'll take a look at some of the best apps for your PC, tablet, and smartphone, and delve into some of the best ways to get the most out of your maps for a variety of uses.
Got a great use for mind maps that I haven't included here? Tell us about it in the comments!