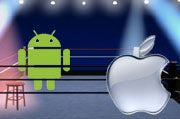 Have you heard the news? Despite every analysis we've seen over the past two years about Android dominating the mobile market, Apple's iOS is the biggest mobile operating system by a landslide.
That's the story being reported by ComScore and repeated in countless headlines around the blogosphere this afternoon. Before you jump to any conclusions, though, hang on: The story isn't quite what it seems.
ComScore's data, to use a painfully cute cliche, is looking at apples and oranges. The analysis compares all iOS devices — iPhones, iPods, and iPads — with Android phones and a couple of early non-Honeycomb tablets. (The data goes only through February of 2011; the Motorola Xoom launched at the end of that month.) Not surprisingly, it finds that the total number of iOS devices exceeds the number of Android devices within the U.S.; in this scenario, Apple's share of American mobile users is 37.9 million, or 16.2 percent, while Android's is 23.8 million, or 10.2 percent.
Apple's iOS vs. Android: The Parallel Problem
Here's the problem: Typically, when we look at mobile market share, we look at a parallel comparison: one smartphone platform vs. another smartphone platform. A tablet OS against another tablet OS. Of course Android is going to look small in the scenario ComScore has created. Heck, forget the iPad: The inclusion of the iPod alone is what's skewing the results.
Don't believe me? Let's do some math. ComScore doesn't provide the exact breakdown of iOS users by device, but it does say this:
"The installed base of iPhones slightly exceeded that of iPod Touches, both of which were approximately twice as high as the number of iPads."
Let's say, then, we're looking at roughly 15,500,000 iPhones, 15,000,000 iPods, and 7,368,000 iPads. That would follow ComScore's description of the data, give or take a few hundred here or there.
Subtract out those iPods, and you're left with a total of 22.9 million iOS devices. Compare that now with the total number of Android devices, 23.8 million — a number that, remember, includes primarily phones at the point of this data collection — and you're looking at a very different story.
In other words, this data suggests that the total number of iPhones and iPads in America is actually less than the total number of Android phones and tablets — even prior to the launch of any Google-endorsed Android tablet competitors.
Apple's iOS vs. Android: The Bigger Picture
In the big picture, Apple's blanket operating system may have the wider overall reach, but I'm not sure tossing MP3 players into a comparison of tablets and phones makes much sense — or means that much. And when you take those MP3 players out of the equation, boy oh boy, does the picture shift.
Consider, too, where things are going from here. Android has been consistently snatching up more and more of the smartphone market with every passing month. This trend has been going on for quite some time now. There's typically some revolutionary Apple moment looming in the future that people insist will turn the tides. So far, none of those — including first the launch of the iPhone 4 and then the launch of the Verizon iPhone — have had any significant impact on the trend.
In the tablet world, Apple clearly has a hefty head start. But an army of Android tablets is forming. The T-Mobile G-Slate is launching this week. Samsung's new line of superthin Galaxy Tabs is on the way soon. More and more high-end options are going to be arriving each month. The iPad isn't going to flounder by any means, but over the next couple of years, it is going to have some serious — and very widespread — competition.
As I like to preemptively point out in any market share comparison, we aren't talking about profits here; we're talking about overall device adoption. And regardless of what platform you prefer, the fact that the companies are duking it out for market position is actually great news. Android's success forces Apple to step up its game and aggressively push out new features for its products. Apple's success forces Google and the various Android manufacturers to come up with innovative ways to differentiate their devices and create new kinds of value for consumers.
I've said it before and I'll say it again: In the race for mobile dominance, the users always win.
JR Raphael is a PCWorld contributing editor and the author of the Android Power blog. You can find him on both Facebook and Twitter.